There are billions of dollars of proposed investments in net-zero projects across the province that are still awaiting final investment decisions, making the timing of the trip essential
Get the latest from Chris Varcoe, Calgary Herald straight to your inbox
Article content
A group of 48 Alberta business leaders trekked to Ottawa and met with the prime minister and several cabinet ministers Tuesday, even as tensions between the federal and provincial governments have escalated in recent months.
Their message was straightforward — Alberta wants to work with the feds on common objectives.
Article content
But the group, led by the Business Council of Alberta and including members from the Calgary and Edmonton Chambers of Commerce, remains concerned about two contentious energy policies: Ottawa's push for a net-zero electricity system by 2035, and an incoming cap on greenhouse-gas emissions from the country's oil and gas sector.
Article content
Council president Adam Legge said Ottawa's draft Clean Electricity Regulations (CER) aren't achievable for provinces that don't have access to low-emissions power generation, such as the large hydro resources available in Quebec, Manitoba or British Columbia.
Alberta isn't seeking a provincial exemption to the rule, something federal Environment Minister Steven Guilbeault ruled out on Friday. But it is pushing for a 2050 timeline, allowing more time for big-ticket investments and technological developments to reach the target.
Related Stories
Guilbeault says no exceptions for net-zero grid; Alberta counterpart calls remarks 'infuriating'

Varcoe: AESO warns of blackouts with feds' plan for a net-zero power grid by 2035

Alberta prepared to use sovereignty act over proposed clean electricity regulations: Smith
The business council wants Ottawa to accept a regional approach that reflects the realities of provinces such as Saskatchewan, Nova Scotia and Alberta, where 72 per cent of all power generation last year came from burning natural gas.
"The notion of having a one-size-fits-all electricity regulation for a country this big, this vast, this different, is not realistic," Legge said in an interview from Ottawa.
Article content
"Let's create a regionalized approach to what is a very regional-specific challenge."
The issue of the province's power system reaching net-zero emissions by 2035 is the latest clash between the Trudeau and Smith governments, a list that also includes the UCP's examination of pulling out of the Canada Pension Plan and the oilpatch emissions limit.
Last week, Premier Danielle Smith said her government is preparing a sovereignty act motion if Ottawa pushes ahead with the draft regulation for a net-zero grid by 2035.
Against this backdrop comes the business trip to Ottawa, which was planned months ago to build relationships and talk about Canada's ability to be a leader and continue expanding in areas such as food, energy, health care and artificial intelligence.
There are also billions of dollars of proposed investments in net-zero projects across the province, including hydrogen, petrochemical developments, and carbon capture and storage. Most are still awaiting final investment decisions.
That makes the timing of the trip essential.
"Regardless of the political discourse and what may be happening between governments . . . the need to still engage with Ottawa is as important as ever," said Michael Solberg, a political strategist and partner with New West Public Affairs.
Article content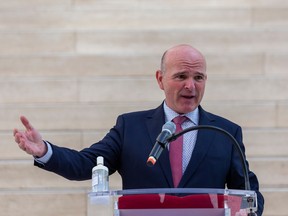 The business group notes the province has the largest solar project in the country, the largest CO2 trunk line in the world and an array of net-zero projects across several sectors on the drawing board.
"It is myth-busting," Calgary Economic Development CEO Brad Parry said of the trip to Ottawa. "It's letting people understand what is happening, letting them hear directly from CEOs and entrepreneurs."
The Alberta group of 48 includes AltaLink CEO Gary Hart, Cenovus Energy executive chair Alex Pourbaix, Spartan Controls CEO Grant Wilde, along with the heads of the Calgary and Edmonton chambers, Calgary Economic Development and Edmonton Global.
During the visit, the delegation is slated to meet with the prime minister, Guilbeault, Finance Minister Chrystia Freeland, Industry Minister Francois–Philippe Champagne, Agriculture Minister Lawrence MacAulay and Employment Minister Randy Boissonnault.
"We are pushing back about any of the language, or narrative or rhetoric about separatism, or that Alberta doesn't want to be part of the federation — it's quite the opposite," said Legge.
Article content
Boissonnault said the trip is building bridges and creating a dialogue.
"The relationship between Alberta and Canada remains strong and constructive, and there probably will always be some files on which we disagree," said the Edmonton Centre MP.
"There have been some very constructive conversations . . . Strong relations between Alberta and Canada are good for the whole country."
Yet, there are obvious friction points.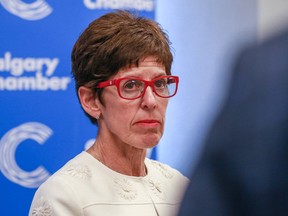 In a statement, Smith said Tuesday she hopes the business group conveys "Alberta's eagerness to be at the forefront of reducing greenhouse gas emissions, albeit within a reasonable time frame."
During a speech Tuesday night to the Alberta delegation's reception, Prime Minister Justin Trudeau said the federal government has committed to partnering with businesses, such as providing an investment tax credit for carbon capture projects.
"Unfortunately, there are politicians who would rather rile up people's fears and anxieties, instead of focusing on what we can do, what we need to do, to secure a strong future for our economy," he said.
"The politicians who'd rather deny the facts of the matter than take action to meet this moment are denying certainty to investors and business leaders, denying workers opportunities and denying our kids and grandkids the secure future they deserve."
Article content
On Friday, Guilbeault said there will be no exceptions for provinces to reach net-zero emissions in their electricity grids by 2035. Some provinces are much closer to the target due to their current generation mix, such as the use of nuclear or hydro.
In Saskatchewan, about two-thirds of its electrical generation is powered by natural gas and, to a lesser extent, coal. In Nova Scotia, coal accounted for 51 per cent of its power generation in 2019.
"Working on regional solutions makes a lot of sense because everybody has strengths, everybody has weaknesses, and you can leverage resources and infrastructure better," said Calgary Chamber CEO Deborah Yedlin.
Legge said the business council doesn't see the need for an oil and gas emissions cap, noting it would disproportionately penalize one sector in the country. The group is hoping to talk with the federal environment minister about its ideas on the Clean Electricity Regulations.
"Alberta cannot reasonably get to a 2035 net-zero grid, largely just because it would put the cost of electricity so high in this province that it would be untenable for most Albertans," he added.
"We are not asking for special treatment, but recognition that there are regions of the country that can't get there as easily and quickly and affordably as some others."
Chris Varcoe is a Calgary Herald columnist.