Article content
Delegates from Calgary and Tsuut'ina Nation were in Halifax on Wednesday to make a pitch to host the 2027 North American Indigenous Games.
The Alberta contingent is competing with Kamloops, B.C., to host the event, which will see more than 5,000 Indigenous youth gather to compete in 15 events.
Article content
The final pitch was made in Halifax, which is hosting this summer's Games. The winning host city will be announced at that event in July.
Article content
Earlier this year, the potential host cities underwent a technical review and a site evaluation review.
Mayor Jyoti Gondek went along to help make the case for Calgary. She said she's optimistic about the bid's chances.
"Everyone on the team was really good, really strong," she said. "I think we've got a good shot at this."
Gondek said she felt the most compelling part of the presentation was athlete Destiny Whitney, who also works at the Tsuut'ina Seven Chiefs Sportsplex.
Whitney has competed in volleyball, swimming and golf, and is now an LPGA trainer.
"Here you have an athlete that is absolutely unbelievable from the Nation who — when she was competing — never had an opportunity to compete in her home community," said the mayor.
"She's back there, creating the programming and the structure that's needed for kids from the Nation to be able to train on the Nation."
Carson Ackroyd, senior vice-president of sales with Tourism Calgary, said they've been working on the bid since last summer. Calgary bested Edmonton for the Alberta nomination.
He said Tsuut'ina has been a valuable partner in the bid because of its facilities, but also proximity. He said the ability to host events without having to transport athletes a great distance will be appealing.
Article content
He added that First Nations and Metis Nations from across Alberta support the bid, and would play a cultural role in the Games, especially with the opening and closing ceremonies.
Akroyd said between Calgary and Tsuut'ina, all the required facilities are available. Athletes would stay at Mount Royal and at the University of Calgary, and those campuses would host many of the sports. Golf would be hosted at Redwood Meadows, swimming at the MNP Centre, and he said Spruce Meadows has expressed an interest in hosting the soccer final.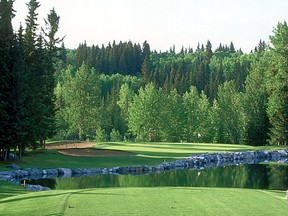 "So across the 15 sports we have a number of different facilities but everybody is stepping up," said Ackroyd. "Calgary truly has incredible facilities that will create a fantastic atmosphere for the athletes to compete."
He said the Games would cost $15 million to $17 million to host, however funding commitments have been secured from three levels of government, as well as potential commitments of $500,000 from corporate sponsors.
"Calgary has such a high number of corporations that are headquartered in the city and many of them do business with Indigenous Nations right across North America," said Ackroyd. "So we're expecting many companies to step up and want to sponsor."
Officials estimate the Games would create more than $40 million in economic benefits for the city and the Nation.
Gondek said one other edge they have is that local universities have already expressed an interest in attending the Games to scout for talent.
"It's a good opportunity, as Chief Roy Whitney said, to demonstrate that governments are best when they're working together."
[email protected]
Twitter: @brodie_thomas
Share this article in your social network