Reviews and recommendations are unbiased and products are independently selected. Postmedia may earn an affiliate commission from purchases made through links on this page.
Article content
Aria Umezawa saw her first opera at the age of eight.
It was at Toronto's National Opera Company and Umezawa did not have to be dragged there. She felt an immediate connection. Her best friend's mother worked for the company, who helped Umezawa and some of her classmates attend dress rehearsals. Admission was $5.
Article content
By the time she was in Grade 6, she was not only well-schooled in the classics but completely enamoured by them and opera in general.
Article content
"I remember walking home from school and just listing out all the operas with a friend that we had seen," Umezawa says. "We were in the 20s at that point and we were only 11 or 12 years old."
As a teen, she was regularly taking in performances from a wide array of companies in Toronto's rich opera scene, going from The National Opera Company to Opera Atelier and Tapestry Opera.
She calls herself the "poster child for educational programming at opera houses."
In fact, she saw so many at a young age that she doesn't actually remember if the Marriage of Figaro was among her early shows – "I want to say yes because it would be so weird if I hadn't,"  she says – or when exactly she first saw it. But Calgary Opera's production of Wolfgang Amadeus Mozart's beloved comic opera, which opens Oct. 14 at the Jubilee Auditorium, will be the first time she has directed it.
Umezawa is no stranger to taking on popular operas. In the 2022/2023 season alone, she directed Giacomo Puccini's Turandot for Opera Colorado, Puccini's Madame Butterfly in New Orleans and Benjamin Britten's A Midsummer Night's Dream for Vancouver Opera. Calgary's take on Figaro is a revival of the 2006 production from Opera de Montreal, with costumes coming in from Seattle.
Article content
So some of the "bigger conceptual decisions" have already been taken care of, she says. Still, whenever she takes on a much-loved classic, she tries to find ways to bring new life to it.
"The challenge with something so familiar is keeping curious about the production and asking questions and seeing where there might be opportunities to deepen or shift our understanding of a scene," Umezawa says. "I think not only do these operas become very familiar but their performance practice becomes familiar, so the interpretation becomes standardized. So I think that's the challenge, is to give yourself permission to ask questions or challenge perceptions of the piece and see if there is an opportunity to make a novel or interesting discovery."
Few operas are as familiar as The Marriage of Figaro. You don't have to be a committed operaphile to know the melody of Mozart's famous Overture, for instance, or be charmed by its comedic and twisting narrative. It is centred around the marriage day of household servants Susanna and Figaro, to be sung in Calgary by soprano Lucia Cesaroni and Hungarian bass-baritone Marcell Bakonyi, respectively. They must foil the lecherous advances of their employer, the Count (sung by Calgary-based baritone Phillip Addis), who wants to revive a law that allows "the lord" to bed any woman who is his subordinate on their wedding night. He sets his sights on Susanna and it's up to the servants, plus his wife The Countess (sung by American soprano Talise Trevigne), to thwart his plans and teach him a lesson.
Article content
True to form, Umezawa sees themes in Mozart and librettist Lorenzo da Ponte's 237-year-old satire that seem particularly urgent and relevant today.
"The Marriage of Figaro centres on a class issue, but more specifically an issue of employers leveraging their power versus the people they employ, who are falling whim to that power," she says. "I was thinking about the SAG-AFTRA strike and the WGA strike that is happening right now, and there was an autoworker strike in the U.S., and how work forces and labour forces are banding together at this moment in time to assert their rights and their values. I think that's what Mozart and da Ponte were commenting on, the way that class and power structures impact people who are the labour force. So it feels very timely in that way. This is what's happening in the world right now."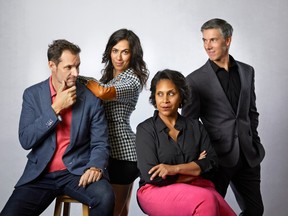 Umezawa has earned a reputation as one of opera's most daring innovators, even when she is delivering a classic. Calgary Opera artistic director Jonathan Brandani, who will be the conductor of this production, describes her as one of opera's "young artists in the prime of their careers." When she first attended a production of Turandot in Toronto, Umezawa made the decision while sitting in the audience to dedicate her life to opera. Initially, that meant training as a singer. She went to McGill University to study vocal performance.
Article content
"When I stood on stage for the first time as a performer with actual stakes, in front of important people, I realized I hated singing," she says. "More specifically, I hated performing."
After some reflection, she decided to turn her attention to directing operas. She quickly became a leading light in Canada's indie opera scene. She was part artistic director and co-founder of Opera 5 and co-founder of Amplified Opera. Early in her career, she came to Calgary to direct the irreverent The Barber of Cowtown for Cowtown Opera, the city's now-defunct indie opera company. In 2017, she began a two-year Adler Fellowship at the San Francisco Opera. She was the first stage director to be awarded the prestigious fellowship in 15 years. In 2021, she returned to Calgary to direct the Vastation, an opera lab digital project mounted during the pandemic.
Meanwhile, she has also focused on "changing the culture" of opera behind the scenes. She developed a workshop called Safe to Run: Bystander Intervention for the Rehearsal Room with Opera McGill and the San Franciso Opera Centre, spoke about anti-harassment and stage intimacy techniques at the OPERA American conference and spoke about gender equity at the Opera Changing Worlds Education Summit. Still, she thinks what opera needs most now is "more optimism."
Article content
"There is a real value to this art form that is worth preserving and worth fighting for," she says. "I think we can get very weighed down with the problems of the opera world, but I think ultimately when you lock into what makes opera so special, people are genuinely curious and interesinbout this art form. I like to say I built my career on identifying and trying to remove barriers to access for opera. I do that because I believe once those barriers are gone, people really find value in engaging with this art form."
Calgary Opera presents the Marriage of Figaro on Oct. 14, 18 and 20 at the Southern Jubilee Auditorium.