The best and scariest ghost stories of Calgary can be entertaining and/or terrifying
Article content
With that spookiest time of the year almost here, it seemed fitting to again dust off a few of our favourite ghost stories. The ghostly tales that float around Calgary range from fun to frightening. An eerie bloodstain changes size in the attic of a 116-year-old house. A young boy cries for help near the bridge where he was brutally murdered more than seven decades ago. A disconnected phone mysteriously rings in a heritage home. The laughter of children drifts across the prairie where a schoolhouse fire once claimed their lives.
Article content
While some of these stories may lean towards fiction, others are rooted in the lives of Calgarians whose time on earth was tragically cut short. Fact or fiction? You decide. But either way, these ghost stories provide some interesting reading with Halloween approaching.
Article content
---
Deane House
One of Calgary's top restaurants in Inglewood occupies the Deane House, at 806 – 9th Ave. S.E.
The house, originally built for the superintendent of Fort Calgary, became a rooming house in the Dirty Thirties and gained a history marred by violence.
In 1971, a murder-suicide involving a married couple occurred in the home. In years since, the ghost of a man with a fondness for pipes has reportedly been seen here, as has the apparition of an Indigenous man. Other unexplained phenomena include the smell of cigar smoke hanging in the air when no one is smoking and a disconnected telephone that will occasionally ring.

Most frighteningly, however, is a bloodstain in the attic that reportedly changes in colour and size. The bloodstain is near a closet that won't stay locked. Staff members say they will lock the closet door, but return to find it mysteriously open. Objects placed inside the closet will later be found strewn about, even though no one has supposedly been in the room.
Article content
More than three decades ago, the Calgary Herald reported that a psychic toured the house and described the experience as terrifying. "As I walked through the front room, it felt like I was walking on Jello, and then I actually witnessed the murder," the psychic said. "Right before my eyes, I saw a man chasing a woman with an axe. He then bludgeoned her to death."
The news story below appeared in the Calgary Herald on March 26, 1971: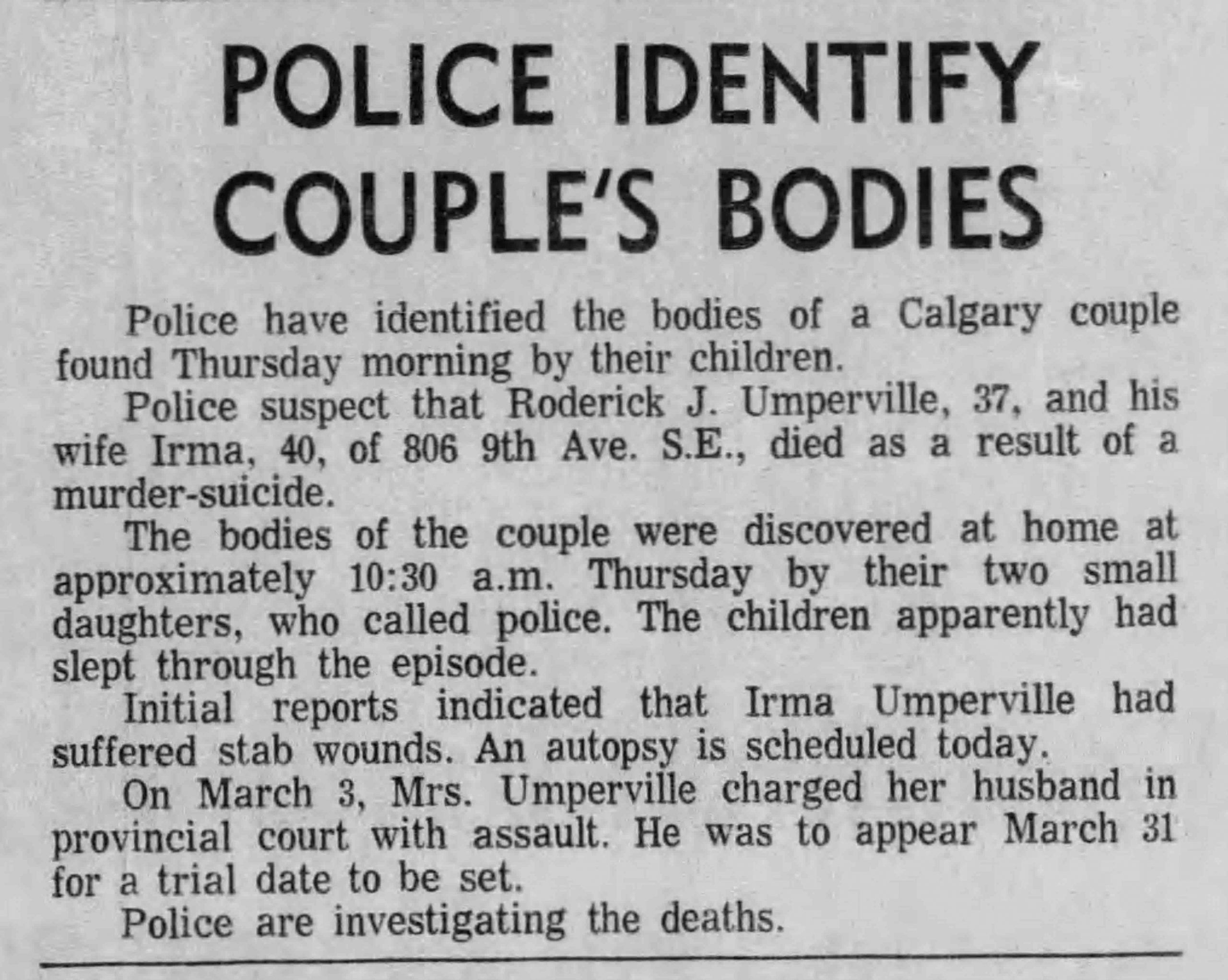 ---
The Zoo Bridge, 12th Street S.E.
This is the area where six-year-old Donnie Goss was murdered and assaulted by a "mad killer," in July 1946. "It is the most fiendish cold-blooded murder in the city's history," city police Insp. Malcolm Boyd told the Herald at the time.
Donnie had been on St. George's Island with his brother, who went to play baseball while Donnie stayed on a set of swings and ultimately met the man who killed him. Donnie was stabbed at least nine times, beaten and sexually assaulted.

Donald Sherman Staley, a 29-year-old war veteran, confessed to the murder and that of a Vancouver boy in a separate incident; he was convicted and hanged in December 1946.
Article content
Over the years, strange events have been reported in the area where Donnie was killed. Some passers-by have heard a boy's voice, crying for help. And in decades past, security staff at the Calgary Zoo said they used to hear a small knock at their door, only to find no one there. They believed their visitor to be the young boy's spirit, so one security guard took a child's ball and he would often toss it outside for Donnie. Whenever he did so, the ball would mysteriously reappear at the security entrance sometime during the night.
A new zoo bridge was opened in 2017 to replace the previous 1908 structure, but there have been no reports as to whether or not that construction has impacted the purported haunting of the area.

---
Rouge
This restaurant in the old A.E. Cross House (1240 – 8th Ave. S.E.) not only serves up some of the finest food in the city; it also offers up myriad ghostly encounters for many who have worked there over the years.

Mysterious falling pots, moving chairs and slamming doors aren't uncommon, while some people have seen the apparition of a woman in white floating down the stairs towards them or heard strange laughter coming from the basement.
Article content
Some believe spirits of the Cross family still float around the place. A.E. Cross was a politician, brewer and rancher, along with being one of the original Big Four businessmen who financed the first Calgary Stampede. But disaster struck his family when the three children he had with wife Helen were struck with diphtheria. Two died while waiting for medicine to arrive on a train from the east.
---
Devil's Playground
There's nothing creepier than hearing the sound of children laughing and playing when there are absolutely no kids around you.
But, that's what has supposedly occurred over the years in the 8100 block of 9th Avenue N.E. A schoolhouse once stood here, however urban legend says a tragic fire occurred decades ago razing the building and taking the lives of at least three children.

Details surrounding this story are murky; that was even the conclusion of a local film crew that investigated the incident. The shouts and laughter of children, however, can still occasionally be heard across the eerie, empty field where the school once stood, according to visitors and work crews in the area. New retail development has now occurred nearby.
Article content
---
Knox United Church
This 109-year-old church at the corner of 4th Street and 6th Avenue S.W. provides an enduring example of Gothic Revival architecture; it gives a stately nod to Calgary's past in the midst of the city's concrete and steel downtown; and, it's become known for welcoming people from diverse communities.

It seems a number of ghosts feel welcome there, too. Not surprisingly, most of the apparitions hanging around this house of worship are friendly and can be seen praying, knitting or walking about — a lady in pink, for example, has been seen walking through walls. One of the strangest ghostly reports came from an organist, who felt her wrist being slapped despite the fact no one was near her.
---
Hose and Hound
If walls could talk, this building at 1030 – 9th Ave. S.E. in Inglewood could tell dozens of tales.
Before becoming a popular pub, the building was a fire station and it's now reputedly haunted by ghosts of a different kind.

The first is the ghost of a monkey that belonged to the city's first fire chief, Cappy Smart.
The monkey was put down after attacking a child, but its spirit never left the building. In more recent years, the monkey's ghost has been blamed for throwing cans off shelves, starting the dishwasher and playing with the pub's billiard balls.
Article content
The other ghostly presence here is linked to one of Cappy Smart's horses named Lightning, which died in a fire. Pub staff members have said you can sometimes hear Lightning's hoofs hitting the pavement outside the restaurant.
Going back a bit further, Calgary Fire Captain William Ritchie was with the department from 1911 to 1951. He said that firemen at this hall (No. 3) along with firemen at Hall No. 6 could hear the sounds of phantom horses, often just before the alarm would ring for a fire.
---
Prince House
No list of Calgary haunted houses is complete without mention of the Prince House at Heritage Park.
Peter Anthony Prince built and managed the Eau Claire sawmill in Calgary, but while he was successful in business he experienced much loss when it came to love. His first wife Margaret died of diabetes; second wife Emma died of tuberculosis; and, his third wife Rosa suffered from cancer. His fourth wife Emily did outlive him, but several of the previous wives' spirits may have remained in the house, even to this day.

Staff and visitors at the park have reported many strange occurrences in the home, including female apparitions in windows and bright lights shining out the windows of the third floor, where there is no electricity.
Article content
Security guards have also told unusual tales, including the fact that years ago one guard dog always pulled his owner to the far side of the street every time they did a night patrol past the house.
Other Heritage Park buildings worth a spooky mention include the Thorpe House, Airdrie House and Canmore Opera House (where a young man with long hair, dressed in turn-of-the-century clothing has reportedly been seen). With such a full slate of spirits floating about, it's no surprise Heritage Park's annual Halloween events and ghostly celebrations prove popular each year.
---
Many more older structures in Calgary have ghostly tales associated with them, including:
The Stampede Grandstand: When construction of this 17,000-seat facility was occurring, a worker was killed. To this day, some claim his footsteps can be heard echoing through empty hallways.
Rose & Crown Pub (1503 – 4th St. S.W.): This popular watering hole was once a funeral home, so a variety of spirits may have passed through its walls over the years. It is the ghost of a young boy who allegedly died in the house, however, that seems to be most frequently heard or felt.
Article content
Cat 'n Fiddle Pub (540 – 16th Ave. N.W.): This is another crowd-pleaser of a pub that's located in a former funeral home and crematorium. The ghosts that hang out here all seem to be friendly: A perfumed woman in a red dress, a man in top hat and tails who frequents the men's room, and the ghost of a biker who once scared a would-be robber from the premises.
Fairmont Palliser (133 – 9th Ave. S.W.): Like every good historic Fairmont property, the Palliser in downtown Calgary has attracted a few reports of apparitions, including that of a couple of ghosts who enjoy wandering the halls and taking in the regal atmosphere of the place.
Lougheed House (707 – 13th Ave. S.W.): The ghosts inhabiting this historic sandstone gem include a phantom couple who dance their way across a room.
Suitor House (1004 – 8th Ave S.E.): While doctors currently use this house for office space, it was once a hospital or care home of sorts, where dying individuals with potentially contagious conditions were sent to live their last days. It later morphed into a rooming house and it is the story of one young couple who lived there that is often associated with one of the building's ghost stories. The husband, who would often jump onto nearby moving rail cars, slipped off a train and died of his injuries. His distraught wife died shortly after and it is her ghost that is believed to still wander Suitor House.
Article content
Doll Block (116 – 8th Ave. S.E.): This heritage building was constructed in 1907 by a jeweller named Louis Henry Doll, who specialized in diamonds. But shortly after opening, his 10-year-old daughter died and he lost his passion for the business. A ghostly female figure has allegedly been seen in the window of the building in years past; some believe it's the spirit of Doll's daughter. The business was eventually taken over by an apprentice — David Ernest Black — who had studied under Doll and ran into bad luck of his own. In the busy holiday shopping season of 1911, the business was robbed and he became a victim of what was then the biggest diamond heist in the city's history.