Reviews and recommendations are unbiased and products are independently selected. Postmedia may earn an affiliate commission from purchases made through links on this page.
Article content
Last weekend, Calgary teenager Finn Lee-Epp heard his performance in the animated film PAW Patrol: The Mighty Movie for the first time at a screening in Toronto.
Seeing your work on the big screen can be a monumental experience for any performer, particularly for a relative newcomer like Finn. But it was perhaps even more extraordinary for the young actor because he did all the voice work for the star-studded film hunkered down alone in a Calgary studio over eight months.
Article content
"This was my first time doing an animated movie so a lot of stuff was new but it was really interesting," says the 14-year-old, in an interview with Postmedia from Toronto. "Because I had imagined things in my head and they could be completely different from how I imagined them in the movie."
As far as blockbuster screenings go, the Toronto event last weekend was a muted affair because of the Hollywood strikes. The film's numerous stars — voices are provided by Kristen Bell, James Marsden, Mckenna Grace, Taraji P. Henson, Chris Rock and Kim Kardashian — were not on hand and there was no red carpet. Still, Finn got to meet a number of the young Canadian actors who did voice work for the film. Finally hearing the voices of the Hollywood stars trade lines with him was also a revelation.
"It was really cool because I had no idea up until the cast got released last January that these people were in this movie with me," he says. "It was really cool, all these people I had no idea would be huge stars are acting with me in this movie."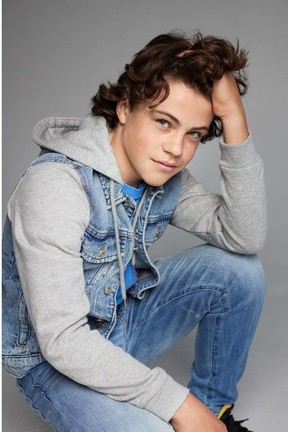 For the Grade 10 student, the whole experience has offered up several firsts. It is his first time doing animated work, his first lead role and the first time he has been shipped to Toronto for a busy few days of media interviews. Based on the computer-animated children's series and a followup to the 2021 original film, PAW Patrol: The Mighty Movie gives a superhero spin to the franchise after a magical meteor crashes in Adventure City and gives the PAW Patrol puppies superpowers and pits them against two supervillains.
Article content
Finn plays Ryder, the 10-year-old human leader of the PAW Patrol, who were rechristened The Mighty Pups after being bestowed magic powers. Finn got the part after three auditions. The first audition was fairly straightforward with Finn recording a few sentences of him introducing himself and submitting it online. The second had him reading a few scenes from the script.
His third audition was held in a Calgary studio, where he was joined in a conference call by the Toronto-based production crew and Montreal director Cal Brunker. Producers informed Finn's parents that he had won the role a week later. They drove to Finn's school and texted him from the car.
"My dad texted me and said 'Come outside right now,' " Finn says. "I was afraid something bad had happened. I got outside and got in the car and both my parents were there and my mom turned to me and said, 'Hello Ryder.' It was great because I knew instantly I was hired."
For the next eight months, Finn spent time with a sound engineer recording the role. He was often joined via conference call by Brunker, who would often feed him the lines of the other characters as he worked.
Article content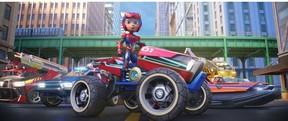 Finn says he was nine years old when he decided he wanted to become an actor, inspired by the live-action educational series Odd Squad. He started taking some acting classes, joining StoryBook Theatre where he also played a few small roles. He did a bit of work as an extra on various productions and landed his first film not long afterwards, playing a younger version of Kevin Costner and Diane Lane's son in flashbacks in the 2020 Alberta-shot thriller Let Him Go.
"I think there's a pretty big difference, but different in ways you don't expect," says Finn about voice work versus live-action acting. "You end up acting five times more animated than you would in a live-action because they can't see your face, they can only hear your voice. I had to really think about that because it was really important to do that."
Since landing the role of Ryder, Finn has gotten a new agent and is looking forward to auditioning for more projects once the Hollywood strikes are over. He is the third actor to play Ryder in the franchise. Chris Epp, Finn's father, said Finn and his brother would often watch the show when they were younger.
Article content
"It's pretty neat to see Finn being a part of that world," Epp says. "Ryder is a big character. I say to him it's like taking up the role of James Bond if you're a kid. Different actors play him in different movies."
At one point during production, Epp had to free his son from summer camp so he could return to the city to redo a couple of lines.
"I drove out of town, grabbed him, went back to the city, he had maybe a 45-minute session and then back out to summer camp," Epp says. "That was the process all along."
Perhaps unbeknownst to Finn, his parents and the production crew, it turns out the young actor was racing against the clock to give voice to a 10-year-old boy over the eight months. His last session was just over a year ago. These days, his voice doesn't sound much like it does in the movie.
"It changed instantly after I stopped recording," Finn says. "Probably a week later, my voice started getting deeper."
PAW Patrol: The Mighty Movie is now in theatres.