Reviews and recommendations are unbiased and products are independently selected. Postmedia may earn an affiliate commission from purchases made through links on this page.
Article content
There is a strange irony in the idea that contemplating failure may have been what led Vivek Shraya to her true calling.
Of all the many elements that have been part of her eclectic career, Shraya says it is her recent run as creator, writer, executive producer and star of CBC Gem's digital series How to Fail as a Popstar that is the most satisfying.
Article content
"I loved doing it so much," says Shraya in an interview with Postmedia. "If I could lean into one career in particular, it would probably be TV and movies. There was something so romantic and beautiful about going on set every day and having people who love what they do and are passionate about what they do show up with that sort of enthusiasm; with all of us watching the monitor – one person paying attention to lights, the other person paying attention to set, the other person paying attention to makeup. It's full of people who are a little bit … not right. It's like 'what did you spend your day doing?' 'Well, we all made believe.' But it just feels like such a beautiful thing."
Article content
Of course, the Calgary-based performer has been involved in so many disciplines over the years – music, theatre, visual art, fashion, fiction writing, non-fiction writing, academic writing, photography and book publishing – that it is tempting to take this proclamation with a grain of salt. But it's true, Shraya has spent the last couple of years focused on How to Fail as a Popstar, which started life as a one-person theatre show, became a book and is now a series on CBC Gem with a soundtrack of songs she penned herself. So it does seem like the culmination of the various threads she has worked on over the years.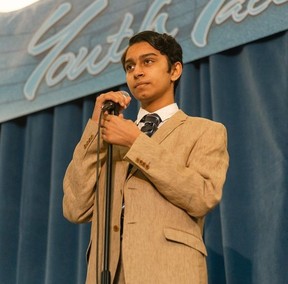 As the title suggests, the original premise of How to Fail as a Popstar focused on failure, offering a series of vignettes from her early days as a "brown, queer kid" obsessed with the idea of becoming a pop star to her realizations later in life that music stardom might not be in the cards for her.
But Shraya says the project's long journey from a one-person play to a series still feels like a story of success, despite its subject matter.
"Working on the TV show is one of my career highlights, one of the happiest times of my life," she says. "It's odd, because it is a show about failure and disappointment but I had so much fun working on the career, largely because of the amazing cast and crew that we had. I think the play, in a lot of ways, allowed me to work through a lot of the sadness around the disappointment I have around my career. I think by the time I got to work on the show it was a much different feeling. Despite the fact that I'm a failed pop star, it's really hard to feel like a failure when you're working on a TV show."
Article content
The digital series, which she adapted from her play, tells the story of Shraya's popstar failure over eight 10 to 15-minute episodes. Shot over 14 days earlier this year in Toronto, the story starts in Edmonton with young Vivek yearning to be a pop star. The three episodes provided to the media revolve around Shraya's failed youthful attempts to conquer the world of 1990s shopping mall youth talent contests and the first step toward a career after hooking up with an aggressive producer looking to change Shraya's sound.
Young Vivek is portrayed by different actors, including Adrian Pavone and Chris D'Silva in the first three episodes, while Shraya narrates and appears as "Dream Vivek" in various sequences. Like the play, the story is told from the perspective of the now "40-something trans femme artist that boy became."
The series includes several supporting characters, most of whom are composites of real people who impacted her career: her friend Sabrina (played by Aayushma Sapkota and Nadine Bhabha) and her producer (Eric Johnson). Vivek's supportive mother, Chandrika, is played by Ayesha Mansur Gonsalves.
Article content
"Every episode is a bit of what happened and a bit of TV magic," says Shraya, who came out as transgender in 2016. "The premise of the show and the premise of the episodes are based on me, but certainly leans into fiction as well."
Shraya began working on the stage version of How to Fail as a Popstar in 2018 as part of the High Performance Rodeo in mid-January 2020 before it moved to Toronto for a 12-night run that ended not long before COVID-19 shut down all theatre productions. Shraya applied to a CBC program called From Playwright to Pilot and was accepted. The series went into development in 2021 and was greenlit by CBC Gem in the summer of 2022. Meanwhile, after the lockdowns lifted, Shraya continued performing the one-person show around the world. The series, which begins streaming Oct. 13, had a hometown screening earlier this month as part of the Calgary International Film Festival.
Shraya is set to return to her job as an associate professor of creative writing at the University of Calgary in January after taking a year off to concentrate on the series. Her past work has included writing the provocative 2019 memoir I'm Afraid of Men, which earned her rave reviews and a profile in Vanity Fair, and 2019's autobiographical graphic novel, Death Threat, which she created with Toronto artist Ness Lee and was a Lambda Literary Award finalist. In fact, since 2020, she has published the novel Subtweet, a book version of How to Fail as a Popstar, a children's book Revenge of the Racoons with illustrator Juliana Neufeld, and the 2022 memoir People Change, which was a finalist for the W.O. Mitchell Book Prize. She also founded the publishing imprint VS Books, which supports emerging BIPOC writers.
Article content
That is just the literary part of Shraya's career. While she may have yet to fulfil her childhood dreams of selling millions of albums as the next Madonna or appearing on the cover of Rolling Stone, her music career seems equally impressive to the outside observer. She was a headliner at this summer's Sled Island, has appeared on the cover of music publications in Toronto and Calgary. Her 2017 Part-Time Woman album was longlisted for the 2018 Polaris Prize. Earlier this year, she shared a Canadian Screen Award with Ceréna, Emily Persich, Moël, Terrell Morris and SVDP for Best Original Music, Comedy for the CBC series Sort Of.
Failure is a relative term.
"One of the things I find myself reflecting on a lot lately is that I'm really happy that I never gave up on music," she says. "Even though I understood my dreams weren't going to come true and how hard that hit me in my late 20s, throughout my 30s, I've tried to find ways to keep music in my life whether it be putting out a Christmas Diwali album (2014's All of the Lights), making a Babyface cover album (2013's Breathe Again) or making a band with my brother (Too Attached), I've been pretty relentless even after I knew my dreams weren't going to come true. Even making a play about failing to become a popstar was another desperate attempt to try and keep music as part of my art and my life."
How to Fail as a Popstar starts streaming on CBC Gem on Oct. 13. A soundtrack, made up of songs from or inspired by the series, will also be released on Oct. 13.