'I would say in terms of the construction, we're in the ninth inning,' Trans Mountain Corp. CEO Dawn Farrell said in her first interview since taking the job
Get the latest from Chris Varcoe, Calgary Herald straight to your inbox
Article content
Trans Mountain Corp. CEO Dawn Farrell says the oil pipeline expansion project is on track to begin commercial operations by the end of March, but acknowledges the mammoth development still faces pressures as construction enters the home stretch.
In her first interview since taking on the job as chief executive of the federal Crown corporation, Farrell said the $30.9-billion project remains "in that range," with only 16 kilometres of pipeline left to put in the ground.
Article content
Once construction is complete, it will allow for testing, commissioning work and filling the line with 4.5 million barrels of oil, which should begin near the end of January.
Concluding a long-awaited sale of the pipeline back into private-sector hands could happen potentially in early 2025, she said in a wide-ranging discussion on the project's future.
"I would say in terms of the construction, we're in the ninth inning. So, we're getting close to finishing," Farrell, who took over the corporation's helm in August 2022, said Thursday.
"We're aiming to have first oil to (the Westridge Marine Terminal) by the end of the first quarter of 2024 . . . As long as we don't run into sort of geological risks, I feel very confident that we're in that time frame."
Ottawa bought the pipeline from Kinder Morgan Canada in 2018 for $4.4 billion after it appeared the owners were set to walk away from the development.
Related Stories
Regulator rules in favour of Trans Mountain route deviation, avoiding nine-month delay

Trans Mountain pipeline will push Canadian oil output to new heights: report

Braid: Will Trudeau's climate zealots ever cut the ribbon on Trans Mountain pipeline?

Trans Mountain pipeline construction costs balloon again, this time to $30.9B
Article content
The Trans Mountain expansion project is seen as a critical piece of energy infrastructure for Canada's oil sector, nearly tripling the capacity of the existing pipeline to 890,000 barrels per day.
The 1,150-kilometre pipeline runs from the Edmonton area to a terminal in Burnaby, B.C.
Oil and refined products shipped on the line will be able to access growing markets in Asia, although many analysts believe much of the crude could end up moving south to U.S. customers.
Farrell, the former CEO of Calgary-based TransAlta Corp., remains confident the pipeline will deliver economic value for the country, even as critics expect the federal government will likely have to take a writedown to eventually sell the development.
The capital costs have escalated from $5.4 billion in 2013 to now top $30 billion.
"I think we're close (on the latest price tag). For sure, there's pressure on it because every time there's a bit of a delay or you have to do a regulatory hearing, or you have to find a new methodology, that puts pressure on the contingency and on the reserve. But we are close, in that range," she added, noting rising interest rates are another factor.
Article content
"The biggest pressure on this project right now is the timing, for sure. So every month of delay is $200 million that accrues to the project."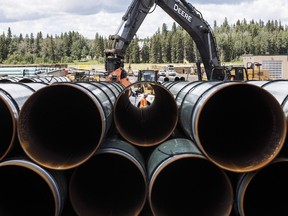 The journey to get the development built is one for the Canadian history books, complete with regulatory and legal delays, changing timelines and rising budgets, the challenges of building essential infrastructure during a pandemic — and plenty of politics.
It also comes as other proposed oil pipelines, including Northern Gateway, Keystone XL and Energy East failed to launch.
The original Trans Mountain line was constructed 70 years ago; an application to move ahead with the expansion project was filed with Canadian regulators a decade ago.
It received initial approval in 2016, after the regulator determined the initiative was in Canada's public interest.
The project has staunch supporters, including the Alberta government.
Shippers have signed up for long-term contacts to take up about 80 per cent of the available capacity, although there are some disagreements over the pipeline's proposed tolls, given the rising construction tab.
Article content
"It's a critical piece of infrastructure," said Tristan Goodman, president of the Explorers and Producers Association of Canada.
The development also has detractors who believe the Canadian government will end up losing money on Trans Mountain.
Ottawa has provided loan guarantees to Trans Mountain, including $10 billion in such guarantees in 2022, according to Reuters.
"I will be very surprised if the final price tag is the current budget of $30.9 billion," said Eugene Kung, a staff lawyer with West Coast Environmental Law.
"Its legacy is going to be one of the biggest and most expensive mistakes by a federal government."
Canada is the world's fourth-largest oil producer and output next year could potentially increase by 250,000 barrels per day, according to S&P Global Commodity Insights.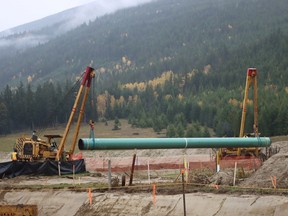 The pipeline expansion is needed and will help prevent the discount facing western Canadian heavy oil from widening sharply during periods of pipeline constraints, said S&P vice-president Kevin Birn.
"Canada needs this pipeline to prevent differential blowouts in the future. It needs it from a strategic point of view, being able to access global markets," Birn said.
Article content
"It potentially could be the last major new incremental pipeline being completed (in Canada)."
Farrell said the project will generate about $40 billion over two decades of additional royalties and taxes to Alberta, and $12 billion in additional taxes to the federal government.
The federal government has said it will sell the project, once it is fully derisked, and Indigenous groups have expressed interest in buying a stake.
As for the potential of a writedown, there are efforts to minimize that from happening.
"What I'm trying to do is minimize any capital that's left behind, because effectively what happened here is the federal government has used the credit card of the federal government to fund this project. And once the project transfers to the private sector, we're paying back the credit card," she said.
"I've got a lot of ambition to pay back as much of that credit card as we can because I think that's the fair thing to do."
The Trans Mountain Corp. CEO also believes the project will be able to find a buyer. However, it will take time. 
"This is a $30-plus billion dollar sale. This will be one of the biggest sales, if not the biggest sale, that's ever occurred in the country," Farrell added.
"To the extent that we get everything ready to go for next spring, that gives us the time then through the spring and the fall to engage potential buyers and potential opportunities.
"So, I would put having a conclusion on that until late in 2024, potentially early '25."
Chris Varcoe is a Calgary Herald columnist.