This country has yet to see one LNG project completed yet, although that impasse is about to change with the advancement of several projects
Get the latest from Chris Varcoe, Calgary Herald straight to your inbox
Article content
After years of growing at a fast pace, global demand for natural gas is forecast to gear down over the next few years, while global LNG supply is expected to race ahead by 2026.
A new report by the International Energy Agency (IEA) projects a slowdown in the growth of natural gas consumed in the world, forecasting it will peak in North America in 2023 before declining next year.
Article content
Yet, it also highlights the opportunity ahead for countries that are willing and able to export liquefied natural gas (LNG), particularly the United States.
It's just one more reason Canada needs to ensure it has a firm spot in the global LNG sector — something industry leaders and energy experts continue to highlight, even with last month's projections by the IEA that oil, coal and natural gas demand will peak this decade.
"There are a lot of forecasts. You know, I've been in this business long enough to see peak oil many times and it's never actually hit peak oil. This year, the world will use more oil than it's ever used before," Enbridge CEO Greg Ebel said in an interview Friday.
"Natural gas is a critical component in so many different regions of the world and will continue to do so as part of our sustainability goals, as part of backup for renewables . . . More and more people want to have a better lifestyle and that means cheap, affordable, secure energy.
"And, inevitably, for decades and decades to come, that is going to involve natural gas and oil."
Article content
The latest IEA report released Tuesday forecasts global demand for gas will dip from an average growth rate of 2.5 per cent annually (between 2017 and 2021) to 1.6 per cent from last year to 2026.
It cites several factors for the decline, including improved energy efficiency standards and the ramp-up of renewable power.
"The world's gas markets have entered a new and more uncertain period that is likely to be characterized by slower growth and higher volatility," the IEA's Keisuke Sadamori said in a statement.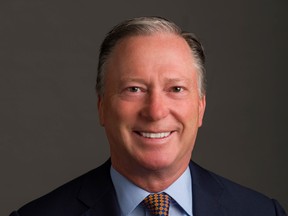 "We expect a substantial increase in new LNG capacity coming online in the years ahead, which should ease some of the tightness and security of supply concerns."
While markets such as Europe and North America are expected to see gas consumption fall over the medium term, higher demand is anticipated in Asia, Africa and the Middle East.
And the strategic importance of super-chilled liquefied natural gas will continue to expand.
"LNG export projects will be a key driver of upstream developments," the report states.
A couple of figures in the report are worth considering.
Article content
The agency forecasts LNG supply will increase by 25 per cent, or 130 billion cubic metres, around the world by 2026. The United States will make up about half of all incremental supply, cementing its position as the world's largest and fastest-growing gas exporter.
The report also projects LNG exports south of the border will rise by a stunning 60 per cent by 2026 compared with last year's levels, as more liquefaction capacity is added on the U.S. Gulf Coast.
(The study projects gas output in North America will climb by 1.8 per cent annually between this year and 2026.)
For Canada, LNG also represents an opportunity.
As the world's fifth-largest natural gas producer, gas output in Canada has increased over the past decade. Coal used in power generation has increasingly been replaced by lower-emitting gas.
Western Canada has massive reserves of gas, particularly in the Montney formation in northern British Columbia and Alberta.
Total Canadian gas sales volumes will increase to about 21 billion cubic feet (bcf) per day by the end of the decade, up from 17.5 bcf per day currently, according to a report by RBC Capital Markets.
Article content
It estimates about two-thirds of all gas wells drilled in Western Canada by 2030 will target the formation, supported by LNG initiatives.
"The dominance of Canada's Montney shale play is about to go global," the RBC report states. "Multiple phases of LNG projects are set to (be) driving the growth of Canadian gas volumes."
This country has yet to see one LNG project completed yet — 18 separate developments were proposed at one point last decade — although that impasse is about to change.
The LNG Canada development in Kitimat, B.C., led by Shell, is expected to begin operating as early as 2025. The smaller Woodfibre LNG project near Squamish is now under construction, co-owned by Pacific Energy Corp. and Calgary-based Enbridge.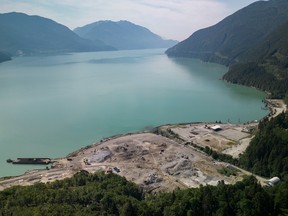 Other projects are advancing. A final investment decision on the proposed Cedar LNG project is expected during the fourth quarter of this year.
Ebel, who spoke last week to the Toronto Region Board of Trade and advocated for more LNG development in Canada, noted the U.S. has become the world's largest gas exporter in just seven years.
Yet, it's been a "lost decade" for this county's LNG aspirations.
Article content
"What is Canada doing wrong? We're moving too slowly," he told the audience, noting gas exports could displace coal used in other countries and lower emissions.
"Even with the U.S. expansion, there's still plenty of room for Canada to be a serious player."
He's not the only one who thinks Canadian gas can play a significant role in the international LNG industry.
The country could potentially ramp up its LNG exports to more than five bcf per day, said Dulles Wang of energy consultancy Wood Mackenzie.
With Canada's short shipping times to growing Asian markets and its low-emissions LNG, this country has several natural advantages, although there's also a need to build more pipeline capacity, he added.
"It's not too late," said Wang, the director of Americas Gas and LNG research at Wood Mackenzie.
"The growth in the LNG market will continue well into the 2040s — and if we can get projects started or off the ground by the early 2030s, there is definitely still time for these LNG projects."
Chris Varcoe is a Calgary Herald columnist.