'Everyone is waiting with bated breath whether or not this is a go-ahead, and how soon this will be completed'
Get the latest from Chris Varcoe, Calgary Herald straight to your inbox
Article content
The City of Calgary's event centre committee is slated to meet Thursday with expectations running high that progress has been made and more announcements are forthcoming about the future of the $1.2-billion project.
A lot has happened since Alberta's premier, Calgary's mayor and councillors, leaders of Calgary Sports and Entertainment Corp. and the Calgary Stampede gathered on a parking lot in east Victoria Park in April to unveil the development.
Article content
Since the various sides announced an agreement in principle to build a new arena, the UCP government has been re-elected, some initial provincial money was earmarked for infrastructure, and more discussions about a definitive deal have taken place.
Members of city council, tourism officials and downtown leaders are eager to find out what's in store next.
"Like everybody else, we are just waiting for final confirmation of all the other partners — that they're coming to the table with all of the resources and dollars," said Coun. Terry Wong, whose ward includes downtown Calgary and is a member of the event centre committee.
"Everyone is waiting with bated breath whether or not this is a go-ahead, and how soon this will be completed."
Coun. Andre Chabot, who is also on the committee, said he's looking for an update on the project's status, which he considers to be a key economic building block for Calgary.
"We will get a chance to discuss exactly where the project is at," Chabot said Wednesday.
"From our perspective, based on what I know, I think things are progressing along quite favourably."
Article content
Related Stories
Questions, criticism remain for event centre deal as councillors defend plan

Breaking down the $1.22B Calgary arena deal: What's included, who's paying

Braid: New arena deal is costlier than the original, with province paying for infrastructure and Saddledome demolition

How the new Calgary arena deal came to be

Breakenridge: A bad deal or no deal weren't the only choices for Calgary arena
On the eve of the provincial election last spring, the city, province, Flames ownership and Calgary Stampede announced ambitious plans to proceed with an event centre development, to be built north of the Saddledome at 14th Avenue and 5th Street S.E.
The centre itself is estimated to cost $800 million, with a community rink, parkade and community plazas pushing the price tag up to $926 million. Another $300 million would be directed to land purchases, remediation, demolition, transportation connections and other improvements tied to the development.
Under the initial agreement in principle, the city agreed to pay $537 million, while CSEC would contribute $356 million. It will make a $40-million initial contribution and then annual lease payments of $17 million, increasing by one per cent a year, over a 35-year lease.
Article content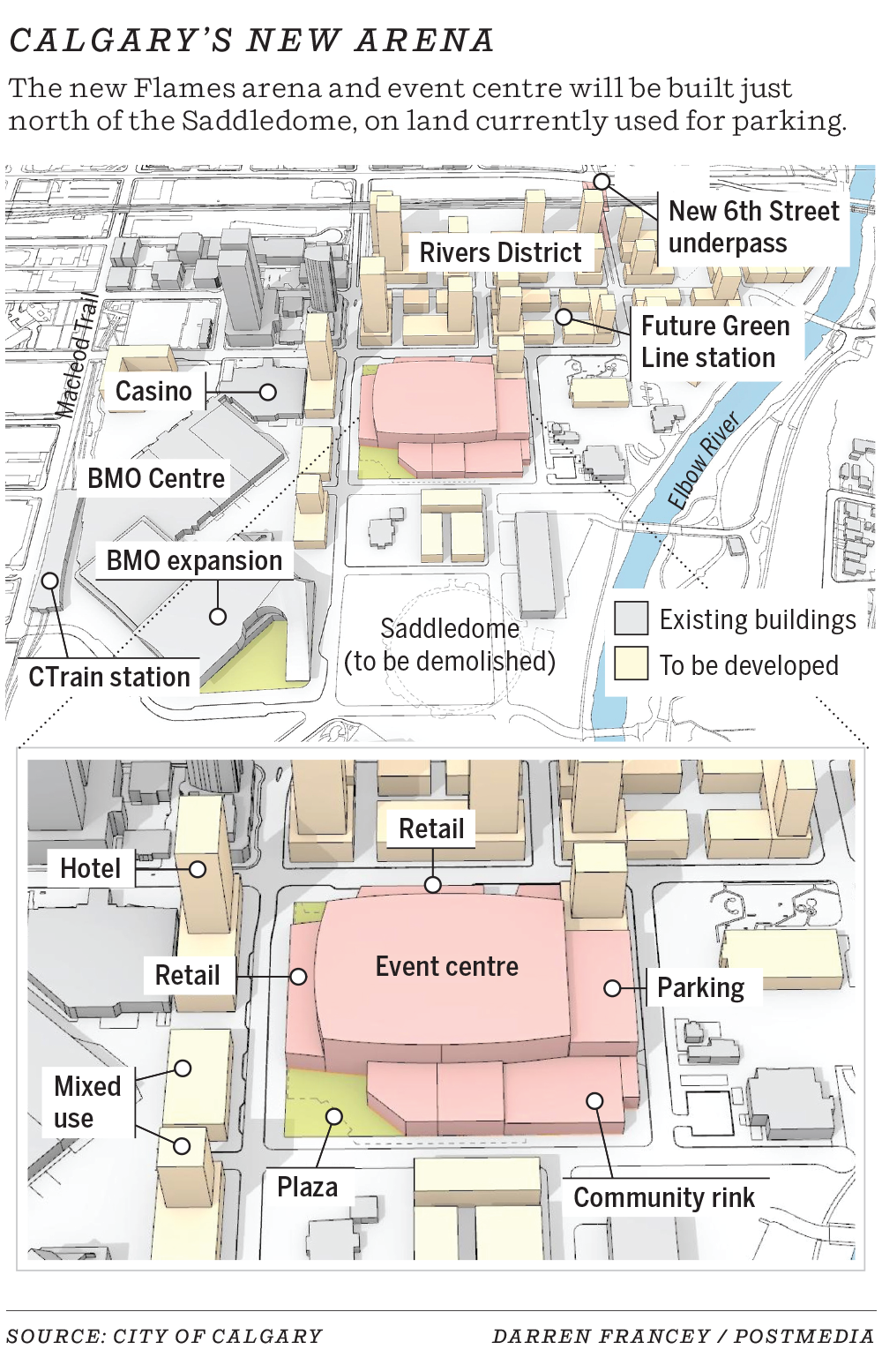 The UCP government pledged to set aside $330 million for necessary infrastructure — including a 6th Street S.E. underpass — and half of the cost of the community rink.
Meanwhile, the Calgary Stampede would transfer land to the city to help clear the path for the event centre and the surrounding entertainment district.
The centre would be built on a 10-acre parcel of property, allowing for the community rink and other facilities, including potential retail space along Stampede Trail and an outdoor and indoor plaza.
The project is seen as a linchpin for economic development in the city, helping accelerate plans for Calgary's culture and entertainment district and revitalizing the city's core.
"It's all about this coming to fruition, finally. I think it will be just another add-on of an economic investment that is needed for Calgary," Mark Garner, executive director of the Calgary Downtown Association, said Wednesday.
And what is he hoping to see after the gathering at city hall?
"I hope there are further funding announcements. The deal is sort of done, but I am looking for the additional monies that are needed, the strategy for that to be implemented and the timeline," he added.
Article content
During the province's first-quarter fiscal update, government officials indicated $39 million in capital grants had already been set aside for land acquisition and transportation site preparatory work tied to the Rivers District.
Premier Danielle Smith and the province are expected to announce more of its funding details on Thursday.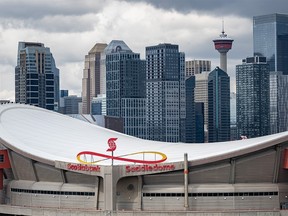 The entire project is seen as essential to helping attract new music and entertainment acts to the city, filling up local restaurants and bars — and potentially spurring the construction of new hotels.
"It will open up so many other things," Garner added. "Residential will want to follow this type of investment. People will want to live downtown."
Mark Wilson, a partner with the Hotel Arts Group and chair of Tourism Calgary, said the development — along with the $500-million BMO Centre expansion — will attract more events and visitors to the city during typically slower periods of the year.
"We have been talking about this as an industry for an extremely long time," Wilson said.
"We are bullish on this project . . . Let's just get it done and let's get going."
Article content
There are still key questions that need to be clarified, including when construction will start and when the facility might be open for business. Garner hopes to see the project in place by 2026 or 2027, but acknowledges that's an aggressive timeline.
Since the project was announced, Chabot said he's heard some opposition toward committing taxpayer money to the development but believes a new arena will ultimately be good for the city — creating critical mass with Edmonton's Rogers Place that entices larger events to stop in the province.
"This will be, from a tourism perspective, a huge boon for our city," Chabot added.
"This has so many other implications. I could talk all day about it."
Chris Varcoe is a Calgary Herald columnist.