Get the latest from Chris Varcoe, Calgary Herald straight to your inbox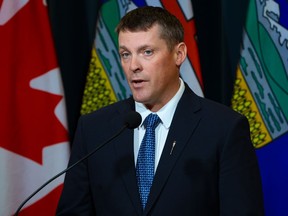 Article content
Alberta's finance minister indicates the province's budget remains on track to stay in the black this year, despite oil prices slipping in recent weeks and the discount deepening on Western Canadian Select heavy crude.
With the province set to release its mid-year fiscal update later this month — and the ministry receiving submissions for the 2024 budget — Finance Minister Nate Horner spoke Friday to the Calgary Chamber of Commerce, describing the uncertain terrain facing Albertans in the months ahead.
Article content

During its first-quarter fiscal update in August, the province forecast a $2.4-billion budget surplus this year.

"We're still very much where we were in the first quarter. We'll have to wait until the end of November to see that exactly, but I think we're doing pretty good," Horner said after the speech.

The mid-year fiscal update from the province will be released as concerns about a recession in Canada have deepened, and higher interest rates are squeezing consumers and businesses.

West Texas Intermediate (WTI) crude prices have fallen from more than US$93 a barrel in late September to $73 on Thursday, before closing up Friday at $76.04.

The price differential between WTI and Western Canadian Select heavy oil, which also has an outsized effect on provincial revenues, widened in recent weeks to more than $25 a barrel.

"Our colleagues are aware that things aren't quite as rosy as they were a few weeks ago," Horner said.

"We're very much on track still in the second quarter as we were in the first. Some of that is from the strength (of) corporate income taxes and personal income taxes. So, we're still sitting pretty good on the trajectory but, yeah, the longer it lasts, the more damage it could do."
Article content

In a province that has weathered plenty of booms and busts, Alberta has seen oil and gas revenues take off over the past two years powered by stronger commodity prices and rising production. The government expects to collect $13.1 billion in bitumen royalties for the budget year that ends March 31.

All of Alberta's resource revenues, including conventional oil and natural gas, are pegged to generate $17.7 billion, representing roughly one-quarter of the province's total revenues.

At the chamber breakfast, Horner noted the province is seeing more oilsands projects graduate into paying a higher royalty rate — reaching a post-payout status — that will generate more revenues for provincial coffers.

Related Stories
From our archives: How to deal with the oil price discount

Varcoe: Strong oil price gives Alberta financial firepower for cutting debt and spending

None
As energy prices are inherently volatile, the provincial treasury remains firmly stuck on the royalty roller-coaster. Every $1-a-barrel change in the oil price differential over the course of the year alters provincial revenues by $600 million.
Article content

And a one-dollar shift in WTI oil prices will change royalties by $630 million.

That figure is likely to move closer to $800 million in the next three or four years as more oilsands projects reach payout status and face a higher royalty take, Horner added.

"That's a great thing, but it does make us even more sensitive to the global economy," he said.

During the first-quarter update, the province projected WTI prices to average $75 a barrel in the current budget year, and the differential to average $15.

If energy prices seen earlier this month prevailed throughout the end of the fiscal year, the province's budget surplus would drop about $475 million from the $2.4-billion projection, said University of Calgary economist Trevor Tombe.

"Relatively speaking, I think we are still on track," he said.

While oil revenues have made a huge difference in turning around Alberta's finances following a string of 12 deficits over 13 years, the reliance on them is also growing.

For example, in the 2018-19 budget year, every $1-per-barrel change in WTI prices altered provincial revenues by only $265 million.
Article content

"Their challenge next year (in the budget) is the same as it is this year — and it's phenomenal risk exposure. Every dollar change in the price of oil matters so much for their bottom line," said Tombe.

"It just reminds us that we are exposed to an enormous amount of volatility," added NDP MLA Samir Kayande.

Industry executives and energy observers say the oil price differential has widened recently due to seasonal factors, temporary refinery maintenance and higher production. The expected startup of the Trans Mountain expansion project by the end of March will significantly increase pipeline capacity out of Western Canada and should help narrow the price discount.

"At this point, we're mindful that there could be some short-term challenges. But when we look out into 2024, we know that Trans Mountain is going to start being full and we're going to see the impact of that in a positive way on the province," said Calgary Chamber of Commerce CEO Deborah Yedlin.

"We are in a fortunate position that those (oilsands) projects are post-payout. But I also think that it speaks to the importance . . . that we are able to get access to markets and be able to take advantage of the world price."

ATB Capital Markets is forecasting WTI oil prices next year will average $76.25 a barrel.

Chris Varcoe is a Calgary Herald columnist.