It's been a remarkable run for the industry, diversifying the economy, creating jobs and attracting investment
Get the latest from Chris Varcoe, Calgary Herald straight to your inbox
Article content
Alberta's tech sector has scored a handful of successes in the past four years, with a series of unicorns appearing on the landscape.
But how do you turn this elite group into a full-fledged herd?
Article content
That's the challenge facing Alberta's technology industry as it continues to attract venture capital funding into startups, while the sector across North America has faced a sharp pullback.
Article content
"We are on the cusp of seeing more companies entering that stratosphere," said Kristina Williams, CEO of Alberta Enterprise Corp., which was created by the province and invests in venture capital funds that finance tech startups in Alberta.
"It's harder to get to unicorn status today than it was in 2021 because of the market conditions and the valuations. But I do see that because we have more companies . . . and they're maturing to that stage, we will see more of them."
Since 2019, Alberta-based companies such as Benevity, Neo Financial, Solium Capital (now Shareworks by Morgan Stanley) and RS Energy Group have gained billion-dollar valuations, underscoring the expansion taking place within the province's tech industry.
It's been a remarkable run for the industry, diversifying the economy, creating jobs and attracting investment.
More than $2.5 billion in venture capital funding has been invested in Alberta tech companies since 2019, according to data from the Canadian Venture Capital & Private Equity Association (CVCA).
Alberta has set records in this area for four consecutive years, reaching $782 million last year.
Article content
In a study issued Wednesday, the CVCA reported that Alberta-based companies raised $534 million of venture capital funding through the first nine months of this year.
During the July-to-September period, there were 20 deals involving $118 million, more than double the amount seen during the third quarter of last year.
And in October, Calgary-based geothermal firm Eavor Technologies announced the completion of a $182-million financing round.
"We're seeing year-over-year record-breaking investment numbers in Alberta while the rest of Canada is declining," Technology Minister Nate Glubish told the Calgary Chamber of Commerce on Wednesday, during the annual Innovation Week held in the city.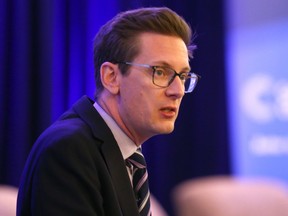 Yet, it's been a difficult 18 months for the sector across Canada, with growing concerns about a recession, ongoing inflationary pressures, rising interest rates and layoffs at some of the industry's largest players.
During the third quarter, venture capital funding deals across Canada tumbled by 60 per cent in value (to $1.2 billion) from the previous three months, although up from a year earlier.
Article content
Alberta companies are still raising money, although industry experts and companies say it's more difficult than it was two years ago.
"It's definitely tougher than it has been, but Alberta still is the place in Canada that is seeing enthusiasm and growth," said Terry Rock, CEO of Platform Calgary.
"It's not like the tap is off."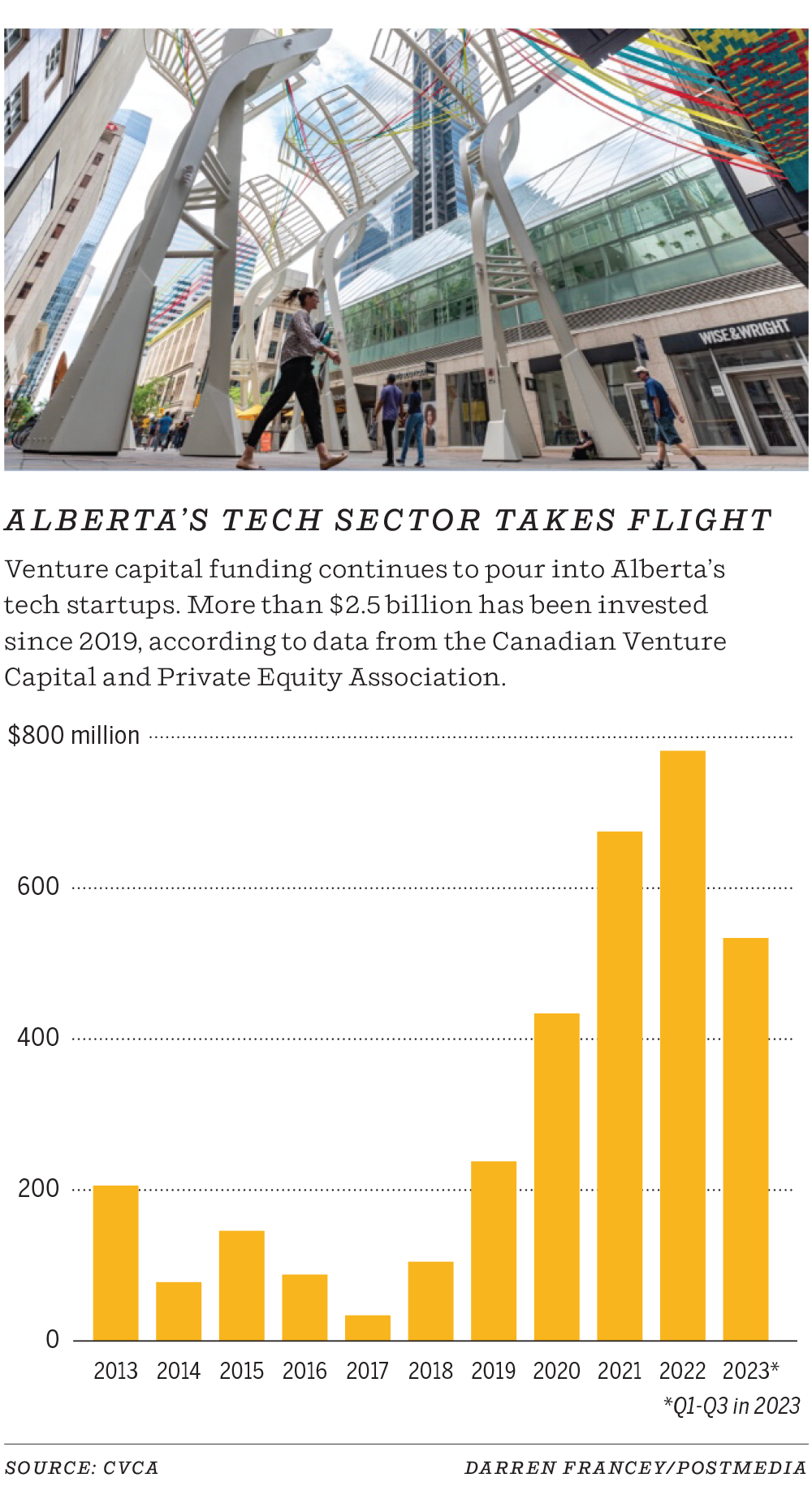 Malcolm Adams, CEO of TangoRide Inc., is hoping the tap remains open for startups like his Calgary-based firm, which has a real-time carpooling app that matches drivers and passengers, and handles the cost recovery transaction. TangoRide is in the middle of raising funds, garnering about $400,000 toward its target of $750,000 in a pre-seed financing round.
"Yes, tech has come off in the last year and Alberta is bucking that trend. Part of that is we have a super strong entrepreneurial spirit here," said Adams. "We hope to be commercial with our app by June of 2024."
Chris Edwards, managing partner of Tall Grass Ventures, an investment firm based in Calgary that's focused on the agriculture and food sector, said the tech industry in Alberta remains generally healthy, and people from the outside are noticing.
Article content
"We are in a growing venture ecosystem, and when you are in a growing phase, there's a little bit more excitement about it and you get a lot of new dollars into it," he said.
Related Stories
None

Varcoe: Quest to raise more unicorns, as city advances in tech rankings

Varcoe: 'Stepping-stone to something much larger' — Neo Financial hits $1B 'unicorn' valuation

Calgary-based tech company Benevity announces mass layoffs

Calgary's $1B unicorn: Solium Capital proof 'you don't have to be in Waterloo' to achieve tech sector success

None
Last week, Deloitte Canada identified some of the fastest-growing tech companies in the country, including Calgary-based firms Symend, ZayZoon, Convrg Innovations and Falkbuilt on its list.
Within Deloitte's category of companies to watch, fintech firm Neo Financial had the highest revenue growth at a staggering 81,732 per cent over the past three years.
Alberta is seeing the benefits of entrepreneurs planting a number of seeds in the sector several years ago, said Neo Financial CEO Andrew Chau.
Alberta tech companies aren't immune to the broader economic challenges but businesses that can attract investment are usually meeting a higher bar today.
Article content
"The fact that we have four or five unicorns in Alberta with a lot of them being very recent . . . success helps to beget more success," Chau said in an interview Thursday.
"Those entrepreneurs and those in the earlier stages can look to the Benevities, the Soliums — or even the Neos — and say, this is a team that was able to do it here in Alberta. That means I could do it, too."

There's also outside recognition of what's happening.
Two weeks ago, research firm Pitchbook released its list of the 20 fastest-growing startup hubs in the world over the past six years. Calgary was the only Canadian city to crack the list, landing in 12th spot.
Companies in other cities such as Toronto, Montreal and Vancouver continue to attract the lion's share of VC funding in the sector, with Calgary and Edmonton ranked in fourth and sixth place this year.
Williams noted that while Canadian venture capital activity has fallen, sitting around half of last year's overall levels, Alberta's figures remain on pace with 2022 record levels.
"We've seen a number of unicorns . . . showcasing that Alberta technology companies can be grown here," she said.
"That's sending an important signal to investors."
Chris Varcoe is a Calgary Herald columnist.