Alberta Municipalities, which represents cities, towns and villages in the province, has pegged the province's infrastructure deficit at a staggering $30 billion
Get the latest from Chris Varcoe, Calgary Herald straight to your inbox
Article content
A population boom is rippling across Alberta this year and like any significant quake, it's reverberating in many directions.
Housing prices and rents are jumping. Employment levels are rising. Labour shortages for companies are easing.
Article content
Yet, it's also straining municipalities and schools, housing and health care, and other vital areas.
New data released Wednesday by Statistics Canada showed the province gained 50,000 residents during the April-to-June period. Alberta's total population now stands at 4.7 million.
Article content
For the 12 months ending in July, the province witnessed the fastest growth in the country, climbing by 4.1 per cent — or 184,399 people.
That's equivalent of adding three cities roughly the size of Medicine Hat to the province in just one short year.
"In people terms, we have never seen a population gain this strong before," ATB chief economist Mark Parsons declared Wednesday.
"The last record was in 2013. But the 2023 increase exceeds that by 77,800. In people terms, no other year comes close."
Related Stories
Alberta sets Canadian record for annual net interprovincial population growth: StatCan

Calgary real estate market sizzles as newcomers flock to Alberta

Strong in-migration forecast to drive Alberta housing

With economy on the rise, Alberta leads country in interprovincial migration

Calgary home sales surging, but record-low housing inventory is boosting prices: CREB
On a percentage basis, it's the highest growth rate for the province since 1981.
The jump in the past 12 months has been powered by strong international migration, a trend that's also fuelling the highest population growth in Canada since 1957.
Article content
But in Alberta's case, there's also a surge of people relocating from other provinces.
Interprovincial migration added 56,245 people in the past year, making it  "the highest annual net interprovincial gains ever recorded for any single province or territory since comparable data are available," according to Statistics Canada.
Those records go back to the early 1970s.
It's a sharp turnaround from the dismal period of 2016 to 2021, when Alberta saw young people pack up and leave after oil prices collapsed last decade and a recession hit.
Stronger global commodity prices and an economic rebound from the early stages of the pandemic have helped turn Alberta back into a magnet — along with attractive housing prices, compared to other large provinces.
In an outlook released last week, ATB now projects the province's economy will expand by 2.7 per cent this year, up from its June forecast of 2.4 per cent. It also forecasts the population growth will slow next year, but still increase by 2.5 per cent.
The Alberta economy "is outperforming the national economy right now. It's growing because of the momentum we're seeing in the energy sector and the fast population growth," Parsons added.
Article content
"The influx of people we're seeing come to (Alberta) from other provinces is different this time around. It's driven as much — if not more — by relatively affordable housing, which is accounting for much of the increases from Ontario and B.C."
But the boom is creating pressure points, as anyone looking for housing in Calgary or Edmonton can attest to recently.
For the fourth straight month, Alberta is seeing the fastest growth in rental rates. In September, annual rent growth for purpose-built homes and condos shot up 15.6 per cent to $1,634, according to the latest Rentals.ca report.
ATB forecasts the number of new housing starts will drop 11 per cent this year to 32,400 units — as higher interest rates have taken hold — although they are projected to jump to 38,500 next year.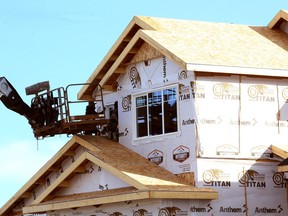 The population growth is an endorsement of the economic opportunities in the province and has helped alleviate some of the labour crunch for companies, but it brings other challenges, said Mike Holden, chief economist at the Business Council of Alberta.
"We're talking about huge numbers of people that are coming in, relative to the size of the province," he said.
Article content
"There's a lot of infrastructure build-out that is needed for that. You need new schools, you need hospitals, people need doctors, cities expand."
Alberta Municipalities, which represents cities, towns and villages in the province, is calling for the UCP government to increase its funding levels as more people flock to Wild Rose Country.
The group has pegged the province's infrastructure deficit at a staggering $30 billion.
It wants the UCP government to raise its base funding amount for the incoming Local Government Fiscal Framework (LGFF) — a program that provides infrastructure funding dollars to municipalities — to $1.75 billion annually from $772 million.
(The province says this funding is slated to increase 14 per cent to $820 million in 2025-26.)
The municipalities association, which began its annual convention in Edmonton on Wednesday, says provincial capital funding for municipalities amounted to $420 per person in 2011, but is forecast to be only $180 next year.
"Unless the provincial government allots substantially more funding for local infrastructure than it does now, municipalities will be unable to deliver on the claim that Alberta is the best province in Canada in which to work, live and raise a family," Alberta Municipalities president Cathy Heron told the conference.
Article content
Calgary Mayor Jyoti Gondek told reporters this week that municipalities are taking on more responsibilities for mental health services and housing — areas the city doesn't typically fund on its own.
Stepping up to finance provincial responsibilities has cost Calgary about $311 million annually since 2007, she said.
"We need more infrastructure funding for the current Albertans, let alone the increased Albertans that are moving here from all over the country," Cochrane Mayor Jeff Genung told reporters on Wednesday.
"This is not a campaign to say stop growing Alberta. This is a campaign to (say) help us. We would like to help you, Alberta government, grow the Alberta economy."
It's positive that Alberta has become a population magnet within Canada, but it also comes with a price tag.
And the tab for the success is coming due.
"There are a lot of consequences to not planning for this properly and not getting it right," said Holden.
"I should say that this is a good problem to have … It's a lot better than a mass exodus out of the province, that's for sure."
Chris Varcoe is a Calgary Herald columnist.
---
No Facebook? No problem.
Meta has blocked news articles from appearing in Canada through its social media platforms Facebook and Instagram, so skip the gatekeeper and come straight to the source.