The City of Calgary has hired CAA ICON as its negotiator in talks with the Flames group on building an event centre
Article content
A journalist who specializes in the politics of sports venues says the city's decision to hire CAA ICON as part of its negotiations with Calgary Flames ownership could be a good move, if the city tasks them with asking for the right things at the table.
The City of Calgary announced Wednesday it has formally restarted talks with Calgary Sports and Entertainment Company on building an event centre in the city. It also announced it had hired CAA ICON to do the negotiating.
Article content
The previous event-centre deal collapsed in late 2021 after the owners walked away, in part due to escalating costs.
Michael Thompson, general manager of infrastructure services for the city, said CAA ICON has been retained as a "deal structure adviser."
Neil deMause is a Brooklyn, N.Y.-based journalist and co-author of the book Field of Schemes: How the Great Stadium Swindle Turns Public Money into Private Profit. He also maintains a website that reports on ongoing arena and stadium politics across North America.
deMause said CAA ICON is well known in the sports business world, most recently for completing an economic impact study for the Buffalo Bills' proposed new stadium.
"They certainly have the chops if Calgary wants them to go in and play hardball and say, 'Okay, find those reasons why we shouldn't have to put up a whole lot of money for an arena, and why we should kick this back over to the Flames' owners,'" he said.
He said it entirely depends on the mandate they're handed.
"Are they tasked with finding a way to keep the costs to a reasonable level, or are they tasked with trying to find a way to get a deal done? Because those are two very different goals," said deMause.
Article content
On its website, CAA ICON bills itself as "the industry-leading owners representative and strategic management consulting firm for public/private sports and entertainment facility owners and operations, professional franchises, and leagues."
They provide services including project management, strategic advisory and feasibility and planning.
ICON was at the table for the Edmonton Oilers' owners Katz Group as they negotiated with that city on what would become Rogers Place arena and the Edmonton ICE District.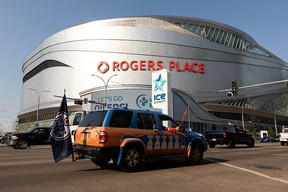 Calgary previously worked with CAA ICON on the Calgary Convention Centre, where the firm provided advice on food contracts.
ICON is under the umbrella of CAA — Creative Artists Agency — which is considered one of the big four talent agencies based in Los Angeles. Its portfolio of music stars includes names such as Ariana Grande, Diana Ross and Eric Clapton. The firm also represents many comedians and A-list movie stars.
CAA also has a sports arm representing players in all major league sports, including the likes of Sidney Crosby and Seth Curry.
While CAA ICON bills itself as working for team owners, deMause said that's because teams are generally the parties that have more money to spend on consultants. He doesn't see why they can't go to bat for the city in these talks.
Article content
deMause said Calgary may not be in the best position going into the talks after the owners previously walked away. He said it feels a bit like bad parenting skills on the part of the city.
"It's like when your child is suddenly saying, 'No! I need more!' and you go back and say, 'Okay, how much more?' instead of explaining sometimes it's going to be yes, and sometimes it's going to be no."
However, he also believes the city is better off having a knowledgeable consultant at the table. deMause said cities are generally "terrible negotiators" when it comes to sports deals because their experts are not as knowledgeable about the sports entertainment industry.
His advice to Calgary would be to look for a share of the revenue streams. He said just looking for vague promises of economic impact or tax lift isn't enough.
He said the gold standard in good deals for taxpayers was the now-demolished Minneapolis Metrodome, which was built with taxpayer dollars in the 1980s and paid off mainly through a generous share of the concession stands proceeds.
Related Stories
'Fresh start': Formal arena talks are back on between city, Flames corporation

Cost to close failed arena deal rings in at $16.8 million
A 2003 article in the Wall Street Journal said the Minnesota Vikings owners bemoaned their 10 per cent share of $5 million worth of concession sales in 2002, arguing it was the worst deal in that league. The rest of the money went to the Metropolitan Sports Facilities Commission, which owned and operated the dome on behalf of the public.
"You have to really go in with cold eyes and look at that stuff and say, 'Okay, what are we actually getting out of this that we would not get out of it otherwise?" said deMause.
[email protected]
Twitter: @brodie_thomas