'We really need 10 feet of snow'
Article content
With southern Alberta farmers wrapping up the harvest, many producers are left hoping for plenty of snow this winter and rain next spring.
According to the latest Alberta crop report, expected yields of major crops on dryland will be below average at 91 per cent compared to the five-year average. The situation is worse in southern Alberta, where it's expected dryland crop yields will be much lower — 69 per cent of the five-year average.
Article content
"It tells the story that we're okay in some areas, but we're not in southern Alberta and eastern Alberta," said Jesse Cole, Agriculture Financial Services Corporation (AFSC) insurance products and product innovation manager.
The growing season didn't start well for many in Alberta this spring, with soil moisture levels looking "pretty bad," said Cole.
"The spring soil moisture matters quite a bit for germination and popping plants out of the ground and getting some of that yield locked in," he said.
Rain helped in some areas of the province in May and June, but in southern Alberta snow this winter and spring rain next year are needed to rejuvenate the soil in time for the 2024 growing season, said Cole.
"We really need 10 feet of snow," he said.
Many southern Alberta farmers have been dealing with a lack of moisture for three years now.
Deanna Heather, Vulcan County's director of agriculture, said yields, with the exception of last year, have been down consistently for several years.
"Compared to the average of what a person should be getting, we're looking at half the production on any given field," she said.
Article content
Canola, a major Canadian agricultural export widely used as a cooking oil, was the worst-hit crop in Vulcan County this year, not germinating at all in many cases, said Heather.
"Canola has just been a mess," she said.
Clint Jurke, agronomy director with the Canola Council of Canada, said canola yields have "not been the greatest" in southern Alberta due to the lack of rain.
While the canola crop in southern Alberta is close to being completely harvested, northern Alberta farmers have got half of their canola crop to bring in from their fields.
"We're hopeful that the yields up there will make up for any shortfall in the south," said Jurke.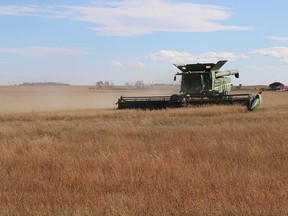 High prices for canola, as well as other crops, remove some of the sting of low yields in southern Alberta, he said.
"It's a shame that farmers in the south haven't been able to capitalize on these high prices," said Jurke.
Heather said that, given the lack of moisture this growing season, the quality of crops is actually better than many Vulcan County producers expected.
But farmers have "absolutely" been managing their expectations this year due to the lack of moisture, she added.
Article content
According to the Alberta government's Sept. 20 agricultural moisture situation update, central and western portions of southern Alberta received 10 to 15 millimetres of precipitation Sept. 7 to 20, but areas east towards Medicine Hat received less, between one to three millimetres.
"For this time of year, this is enough in the short term to stimulate late season growth of pastures and hay land and perhaps fuel optimism for those planning fall seeded crops," reads the update, which notes that the growing season has been "difficult" for many parts of southern Alberta.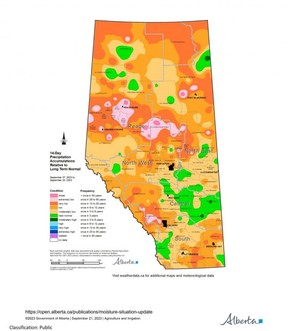 But while there's been rain lately, accumulations throughout much of southern Alberta are between "moderately low" and "very low" compared to the long-term normal levels.
Almost 60 per cent of surface soil moisture in southern Alberta is rated as poor while 33 per cent of farmland is rated as fair and eight per cent as good, according to the Alberta crop report.
"It's just virtually non-existent at this point in most areas," said Heather about moisture levels in Vulcan County.
Heather, whose family farms about 809 hectares in Vulcan County, said their crops are looking well below average, with the canola crop written off.
Article content
"It was a bit of a depressing year, but hoping for some rains this fall and a good winter and rains in the spring, and might be able to see some grass growing and crops coming back next year. That would be ideal," said Heather. "Fingers crossed."
There's also a note of optimism in Alberta's moisture update.
Related Stories
Facing extreme drought, Foothills declares agricultural disaster

Alberta farmers already battling 'extreme' drought this growing season
"The Climate Prediction Center has issued an El Nino advisory and the prospect is good for a strong El Nino this winter and this typically brings a warmer and wetter winter to many parts of Alberta," it reads. "However, there have been many El Nino years where this generalization does not hold, particularly when looking at the province as a whole.
"Let's hope that the dry areas of the province see a relatively warm and wet winter."
Many central Alberta farmers have found their crops in good shape thanks in large part to a big rainfall in June, said Jason Lenz, who farms 809 hectares near the town of Bentley, 28 km northwest of Red Deer.
Article content
He said his malt barley crop is perhaps the best he's ever seen, both in terms of yield and quality.
"It's a big surprise, and I've heard other farmers (in the area) say that," said Lenz, who also planted feed barley, wheat and canola.
His wheat yields are "average to above average" and the quality is there, too, said Lenz. The canola crop is now beginning to be harvested, and it's also looking to be decent, he said.
Lenz, interim vice-chair of Alberta Grains, feels for his counterparts in southern Alberta.
"You know how hard it is to see a crop dry up like that, and it's out of your control," he said. "You can do everything right, and get it in the ground and keep it healthy, but rain makes grain."
Lenz suggested a warmer climate in the northern hemisphere might actually benefit Canadian farmers.
"It will allow us to grow different crop types, ones that need more heat and ones that we can't grow because of our short growing season," he said. "I think it might be of some benefit to have warmer temperatures here in Canada."