Article content
Johnny Gaudreau unleashed a shot. A moment later, the Saddledome crowd erupted.  
It was … nothing like old times.  
Article content
Gaudreau received an earful in Monday's return with the Columbus Blue Jackets. While he was treated to a standing ovation after an early video tribute, he was booed relentlessly for the rest of the night.   
The superstar left-winger shrugged off a near-miss on a penalty-shot and collected a couple of assists on the power-play, but his old pals ultimately prevailed in overtime. The Calgary Flames earned a 4-3 victory in the bonus session.  
Article content
"It built in our favour," said Flames speedster Dillon Dube, the overtime hero on this emotional evening. "Our fans are very passionate. They care a lot about our team, and that's what they showed tonight. They care a lot about us, and we appreciate that. It felt really good to win for them tonight."  
The loudest reaction of the evening, at least until Dube's sudden-death snipe, came after Gaudreau was awarded a first-period penalty-shot. The departed fan-favourite — he skedaddled as an unrestricted free-agent in July, a last-minute decision that caused plenty of consternation in Cowtown — was jeered from the moment he picked up the puck at centre, but the C of Red roared when he wired a wrister just wide of the post on Dan Vladar's glove-side. No goal.   
Just a few minutes later, most of the 17,697 folks in attendance were rising from their seats for the warm-and-fuzzy part — a stirring salute after a thank-you video that included an assortment of dazzling dekes, top-shelf shots and even a vintage wraparound.  
"It felt nice to see everyone standing up and clapping their hands and cheering for me, then five seconds after start to boo again," said the 29-year-old Gaudreau, who was feted as second star. "It's what I expected coming here.  
Article content
"I was sitting next to Eric Robinson, he's a longtime friend. He was like, 'Man, they're really giving it to you out there.' I said, 'It's just a great fanbase.' It was a lot of fun. I'm glad I got to come back and play. It was a cool night."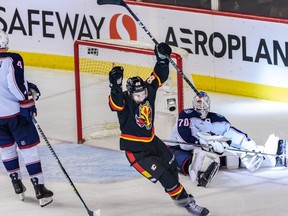 For Johnny, it would have been even cooler if he hadn't plunked the post with a third-period redirect. He was that close to hoisting the basement-dwelling Blue Jackets to a comeback triumph.   
"It would have been better if we won it in 60, but it was nice to get the win," Dube said, offering the view from the other side. "We really needed that."  
The Flames have struggled in overtime without You-Know-Who — their record beyond 60 minutes is now 4-9 — but Monday's winning sequence actually started when defenceman Noah Hanifin stripped the puck from his old buddy Gaudreau.   
The locals raced the opposite direction on a two-on-one rush and Andrew Mangiapane capped a three-point night by teeing up Dube for a one-timer.   
"Overtime is about puck possession," Mangiapane reminded. "I think the lines that were out there before us did a good job of hemming them in and not forcing plays and when they did shoot it, they got it back, came out and reloaded again. That's the key in overtime is just puck management, holding onto the puck and not forcing any plays where they can quick-counter and go back the other way."    
Article content
Walker Duehr, Nazem Kadri and Mangiapane tallied in regulation for the home team.  
Gaudreau assisted on a pair of man-advantage markers in a 49-second span in the middle frame. Kirill Marchenko and Patrik Laine both benefited from his superb setups.   
Gaudreau has now totalled 339 points on Saddledome ice — 337 of those in the Flaming C, and two on behalf of the Blue Jackets.  
"It'll probably be easier next time," he said, looking ahead to a visit to the Saddledome in 2023-24. "But I'm sure I'll still get booed."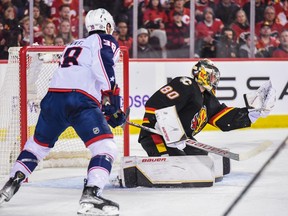 AROUND THE BOARDS  
Vladar delivered 22 saves in Calgary's crease. The team has picked up at least a point in his past dozen decisions, the second-longest such spree in franchise history and just one shy of a club record that is shared by Mike Vernon and Brian Elliott. Vladar is 9-0-3 during this superb stretch. Gaudreau's final stat-line: Two assists, five shots on net and a minus-2 rating in 22:54 of ice time … Flames alternate captain and shutdown specialist Chris Tanev headed to the locker-room after a neutral-zone collision in the first period and did not return. The 33-year-old defenceman has already had a couple of injury absences this season and when he's not available, they certainly miss his calming presence and fearless shot-blocking … Flames head coach Darryl Sutter's post-game assessment? "I thought it was a good effort by our club right through," he praised. "I thought, five-on-five, we were the better team." … Duehr's second NHL goal was a doozy. The 25-year-old smoked a one-timer with so much oomph that nobody seemed to realize it had sizzled through Joonas Korpisalo's five-hole and was in the back of the net. "I was sitting on the bench and I didn't know what was going on, and the horn went off," Mangiapane grinned. "I thought someone may have slipped their finger and pressed the button by accident. And then all of a sudden, the guys started going down the line cheering and I was like, 'Oh, ok.' It was a good shot by him." … Last month, when the Flames made a trip to Columbus, Gaudreau hosted several of his former teammates for dinner. You may recall that after the Blue Jackets bagged a 3-1 victory, Sutter seethed: "We had some guys came for a visit, not to try to win the hockey game." Johnny, it seems, caught wind of that comment. "I got to see some old friends (Sunday), who weren't on the team for the Flames, by the way," Gaudreau cracked after morning skate. "Just so Darryl knows."   
Article content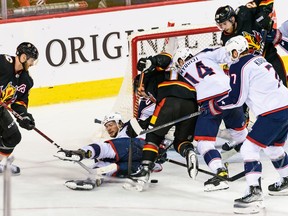 OFF THE GLASS  
Flames bruiser Milan Lucic has now scrapped in back-to-back games and there's no doubt he is still one of the NHL's toughest customers. Just ask Mathieu Olivier. "I think we let our foot off the gas a bit and in the second then Looch fired up the building, for sure," Dube said post-game … There has been widespread criticism of how Sutter handled Saturday's post-game questions about rookie forward Jakob Pelletier, who had just logged his NHL debut. As he fished for his glasses, the skipper asked reporters what number Pelletier was wearing and then proceeded to read his stats in what many viewed as a disrespectful display. Sutter seemed keen to explain himself prior to Monday's matchup with the Blue Jackets. "Somebody asked after the game the other night about Jakob Pelletier," he said, raising the subject on his own. "Well, you couldn't evaluate it because the kid played 420 seconds." … This speaks volumes — the 21-year-old Pelletier was in the lineup Monday for his second big-league appearance. Darn near scored on the man-advantage, too, but he failed to lift a rebound over Korpisalo's outstretched pad … The Flames will wrap this four-game homestand with Thursday's battle against the Chicago Blackhawks (7 p.m. MT, Sportsnet West/Sportsnet 960 The Fan).   
Twitter.com/WesGilbertson