Reviews and recommendations are unbiased and products are independently selected. Postmedia may earn an affiliate commission from purchases made through links on this page.
Article content
Martin Luther King Jr. observed that "in each of us, two natures are at war – the good and the evil. All our lives the fight goes on between them, and one of them must conquer."
This battle is what Robert Louis Stevenson explored 150 years ago in his gothic novel The Strange Case of Dr. Jekyll and Mr. Hyde, and what British playwright Nick Lane makes abundantly clear in his riveting adaptation of this iconic horror story playing at Vertigo Theatre until Oct. 29.
Article content
Henry Jekyll was a brilliant, conflicted Victorian neurologist who invented a serum that transformed him from a frail, almost crippled man, into the vibrant, amoral alter ego who called himself Edward Hyde. Jekyll was aware of Hyde's violent nature but was seduced by the physical prowess he gained by taking the serum.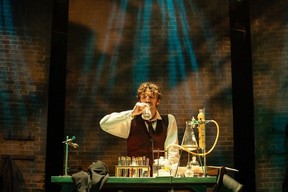 When Lane was a young, aspiring actor in London 20 years ago, a car accident so severely injured his back and neck he had to give up his promising career, along with much of his mobility. It's obvious Lane has woven his own experience and his longings into his adaptation, which helps explain why his Jekyll, and even his Hyde, are far more sympathetic than is often the case.
In a truly masterful dual performance, Joe Perry shows how painful this transformation is for both Jekyll and Hyde. We see Perry's body writhe as it straightens or shrivels, but even more importantly, we see how painful it is for Jekyll and Hyde to have the other person scream in their heads, wanting to take over.
In his adaptation, Lane includes Hasting Lanyon (Daniel Fong), Jekyll's fellow academic and longtime friend, plus Gabriel Utterson (Grant Tilly), the lawyer whom Jekyll and Hyde entrusted with their papers, directives and wills. As with the novel, Utterson is the narrator of the story.
Article content
For his adaptation, Lane has added the character of Eleanor (Allison Lynch), an Irish dancehall singer who entraps Lanyon's heart only to become his bird in a gilded cage, so, understandably, she should be drawn first to the brilliant, intellectually unconventional Dr. Jekyll, and eventually the sexually vibrant Hyde. Lynch shows there is as much conflict in Eleanor's decisions as there is in Jekyll's, making Lane's adaptation truly about what Martin Luther King saw as the conflict that can torment each of us.
Fong also plays an old female servant of Jekyll and an alcoholic policeman investigating the crimes of Hyde, both for comic relief, which gets the intended laughs but drastically changes the tone and style of the show. Tilly grounds the play in an eerie reality.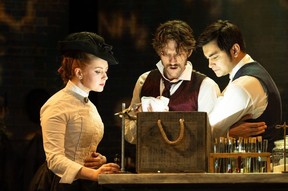 As committed as all the performances are, it's difficult to become involved in the lives of these people, because Lane has the characters break the flow of the scenes to tell the audience how they feel, and what they think, as if they are suddenly reading lines from the novel. This is a production you end up appreciating far more than enjoying.
Article content
Javier Vilalta's meticulous direction and strong vision make Jekyll and Hyde an arresting visual experience that is highly theatrical. He uses music, mime and choreography to underscore the emotions of his actors. Particularly impressive is his handling of Hyde's passionate seduction of Eleanor, and Hyde's vicious beating of an elderly man.
Everything is played out on Lauren Acheson's stark set that has all the play's set pieces, costumes and props pushed against the walls, and only brought out when they are needed, reminding us we're watching a play, not experiencing these events with the characters.
Kudos to Vertigo's artistic director Jack Grinhaus for finding this adaptation and giving it a most worthy North American premiere, once again showcasing Calgary's enviable talents in every aspect of theatrical production.