Reviews and recommendations are unbiased and products are independently selected. Postmedia may earn an affiliate commission from purchases made through links on this page.
Article content
Jessica B. Hill was relaxing on the canals of Venice when we chatted via WhatsApp about Emilia Bassano, the Elizabethan poet who is the subject of Hill's play The Dark Lady, which opens Lunchbox Theatre's new season on Oct. 10.
Some Shakespearian and Elizabethan scholars feel Bassano, who was a poet and contemporary of Shakespeare, could be the "dark" lady of his love sonnets.
Article content
"For the past five or six years, Emilia has become one of the leading candidates for Shakespeare's "dark" lady. She was of mixed race and from a family of musicians, which would match some of the references in Shakespeare's love sonnets," says Hill, who began studying these sonnets in earnest when she was preparing to star in the Stratford Festival's production of All's Well That Ends Well.
"Helena's low self-esteem made her sound like the voice in the sonnets so I began rereading them, and when I learned about Emilia, I could see how she could have been Shakespeare's muse in these sonnets."
During the pandemic three years ago, Hill's friend Fiona Mongillo, who runs the Here For Now theatre company in Ontario, challenged Hill to write a play.
"Fiona told me if I'd write something, she'd put it on, even if it had to be in a park. She gave me the initiative I needed, and because Emilia was fresh in my mind at that time, she became the subject I pursued."
In her research, Hill discovered it was Henry VIII who invited Bassano's family to come from Italy to England because he wanted them as court musicians, but what really interested Hill was that "Emilia was such a feminist who wore her education and knowledge with pride, which was not something women were encouraged to do. She argued that Adam and Eve sinned together by eating the apple which ensured that women and men were equal from the very beginning."
Article content
The more that Hill researched Bassano and read Shakespeare, the more she discovered that "there are so many parallels between them. After a while, I began to wonder if maybe she wrote some of Shakespeare's plays, or maybe he stole her ideas. What I began to see was that it was more likely they collaborated. He didn't speak Italian, but she did, and so many of his comedies have their roots in Italian."
Hill's two-character play The Dark Lady traces a relationship between Bassano and Shakespeare.
"It looks at 30 years of their lives. There's collaboration, influence, jealousy and love. It's the whole spectrum of a relationship. The play looks through the canon of his works through her eyes."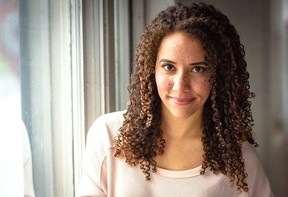 What was essential for Hill when writing The Dark Lady was that "the characters sounded as if they were our contemporaries. I didn't want them to sound stuck in Elizabethan England. I want audiences to be able to identify with them."
A very early version of The Dark Lady did have an outdoor production with Here For Now in 2020, then a one-week workshop at the Stratford Festival in 2021. This past June and July, The Dark Lady received full-scale productions through Winnipeg's Shakespeare in the Ruins and Shakespeare Saskatchewan in Saskatoon starring Hill as Emilia opposite Eric Blais as Shakespeare. Haysam Kadri, who was the artistic director of The Shakespeare Company at the time, heard about the play, asked to read it, asked for the rights and talked Lunchbox into co-producing it with The Shakespeare Company.
Article content
"I didn't write the part for myself, but while I was writing it, something so powerful emerged in her character that I was drawn to play her. I love her resilience and her drive. She was a woman who would have felt marginalized, but she triumphed over that. I want every actress who plays her to know what it means to feel marginalized and to bring that to her performance. It's also absolutely vital that Emilia looks so different from Shakespeare."
Hill says Lunchbox Theatre's artistic director Bronwyn Steinberg, who is directing The Dark Lady for its Calgary premiere, allowed her to observe the auditions via Zoom. "I was so excited that she cast Natascha Girgis as Emilia and Luigi Riscaldino as Shakespeare. I really want to be able to see this production."
Hill, who teaches Chekov for the National Theatre School, and has worked at the Stratford Festival for seven seasons, has been given commissions to write more plays.
The Dark Lady will run in the Vertigo Studio Theatre from Oct. 10-29. Advance tickets are now available at lunchboxtheatre.com/the-dark-lady.