Reviews and recommendations are unbiased and products are independently selected. Postmedia may earn an affiliate commission from purchases made through links on this page.
Article content
It was a long and winding road, with two detours through Alberta, that brought Anais Mitchell's musical Hadestown to Broadway in 2019 where it was greeted with rapturous acclaim.
Mitchell's reworking of the Greek myth of Orpheus and Eurydice was nominated for 14 awards at the 73rd Tony Awards. It captured eight including Best Musical, and a Tony for Mitchell for Best Original Score. Mitchell also won a Grammy Award the same year for Best Musical Theatre Album for the Broadway cast album of Hadestown.
Article content
The American tour of Hadestown, now in its third year with an all-new cast, plays the Edmonton Jubilee Auditorium Nov. 14-19 and Calgary's Jubilee Auditorium Nov. 21-26.
Mitchell, who has returned to her musical roots in Vermont and is now a member of the folk-rock group Bonny Light Horsemen, recalls Hadestown "was the opposite of an overnight success story. It consumed 13 years of my life before it opened on Broadway.
"It went through so many incarnations and rewrites that there were times I thought I was banging my head against a wall. But all my collaborators, and especially all the singers and actors who came aboard at various times, were always so encouraging, that I was always energized to continue."
Mitchell was in her early 20s when she started work on Hadestown.
"It started as a DIY community theatre project that I did with a ragtag group of musicians. We were self-funded and we performed it in tiny opera houses around Vermont, as well as at colleges and rap clubs. Essentially, anywhere that would have us, always reworking and polishing the songs."

In 2010, Mitchell turned Hadestown into a concept album. To promote it, she toured farther afield which brought her to Alberta in March 2012 for a series of concerts called Alberta Sings Hadestown. Mitchell sang Eurydice with Stephen Tchir as Orpheus, Kris Demeanor as Hermes, Charlotte Cornfield as Persephone and John Rutherford as Hades. They played in St. Albert, Medicine Hat, Banff and Calgary at the Ironwood Stage & Grill in Inglewood.
Article content
It was also in 2012 that Mitchell met director Rachel Chavkin, who she recalls "made Hadestown much fuller, more dramatic, and got us an off-Broadway production at the New York Theatre Workshop for a couple of months. It was still a concert experience, so we started looking for a theatre where we could turn it into a proscenium show. That's how we ended up in Edmonton at the Citadel Theatre. Of all the offers we received, we felt the Citadel was a safe place because it was far enough away from Broadway that no New York critics would venture out to see what we were doing."
That same year, Hadestown received a three-month residency at London's prestigious National Theatre, and then it was off to Broadway.
Mitchell recalls her Broadway opening night as something surreal.
"I was a deer in the headlights. I couldn't believe it was happening. I got to take a bow with the cast at the end of the show. I was shaking so much, it was all I could do not to fall over. Someone handed me a bouquet of flowers. I didn't know what to do, so I put them on the floor.
"The pandemic shut us down for over a year, so in September of 2021, I had a second opening night. I was in a completely different mindset. I'd had a second daughter, I was working on new music of my own, and I knew people loved us. I took great pleasure in that opening night."
Article content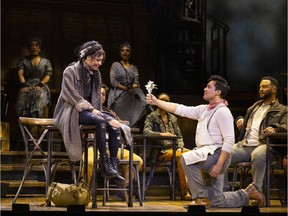 Mitchell says her Tony and Grammy statues "are propping up books in my writing room. I'm making them work, because I certainly worked to get them. I'm back singing, writing and touring which is what I love doing. Bonny Light Horsemen played at the Edmonton Folk Festival this past summer, and we're hoping to be at the Calgary Folk Festival this year. Life is very good, but I still keep in touch with productions of Hadestown whenever I can.
"The myth of Orpheus and Eurydice jumped out at me even as a little kid. When I started writing my musical, I was a young, idealistic person up against the real world. Orpheus believes if he can write something beautiful enough, he can change the world. I guess there was a bit of me in him. Hadestown is a coming of age story, and a love story, and has always been a political story as well because Les Miserables was one of my favourite musicals."
Spotlight: Hadestown plays Calgary's Jubilee Auditorium Nov. 21-26.