Reviews and recommendations are unbiased and products are independently selected. Postmedia may earn an affiliate commission from purchases made through links on this page.
Article content
A couple of hours into our hike and I'm beginning to wonder if there's been some kind of zombie apocalypse and my son and I are, well, the last of us. Since leaving the trailhead near the highway we haven't seen another human. No half-dead, fungal-infected freaks either. True, the trail we're on – High Noon Hills in Sheep River Provincial Park – isn't exactly world-renowned. But, still, I would have bet there'd be at least a few other wanderers out and about. But it's November. Most people have put away their poles. Just one of many reasons why the shoulder season is, in my opinion, the best time to go for a stroll!   
Article content
Of course, I'll take a good walk in the woods any month of the year. To me, even on a crazy-busy trail in Banff in mid-summer, the pros always outweigh the cons. After all, it's nature. It's the great outdoors. And it's crucial for your mind, body, and soul to just get out there and recreate. As far as I'm concerned, going for a hike has always been one of the greatest ways in history to do this.  
Article content
As good as it is, hiking in the shoulder season does come with a few little nuances. "Risks" might be a better way to put it. Trail conditions can be variable and sketchy. Mud, snow, ice … it's all in play. Even driving to certain trailheads can be difficult some days. And weather conditions can also be challenging. Extreme cold, strong winds, blowing snow, sleet … ya just never know.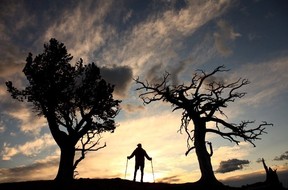 "Rule number one when hiking in the shoulder season is to avoid avalanche terrain," says Joel Hagen, an accredited and award-winning hiking guide and the owner of Great Divide Nature Interpretation in Banff. Hagen, who started his company with his partner, Nadine, in 1997 after working as a naturalist for Parks Canada for a number of years, has led hundreds of hikes in the Canadian Rockies and is fully aware of the risks and the best ways to mitigate them. He's been a hiking guide for 32 years and is one of only 20 guides in the country with "Master" status with the Interpretive Guides Association.  
Article content
"Ice cleats are also essential," says Hagan, who spends much of his winter guiding snowshoeing adventures in Banff National Park. "They provide that critical traction that you need when the trail gets icy and they can save you from having a serious fall. Also, you should pack more safety gear than you might in summer. I recommend extra layers, a headlamp in case evening sneaks up on you, snacks, and a thermos of something warm like tea or hot cocoa. Given how long and cold the nights are, it's a good idea to let a close contact know about your plans just in case something goes wrong."   
While being prepared is, obviously, essential, choosing where to go can also be a make-it-or-break-it decision. "In Lake Louise, Lake Agnes is a good bet in November," says Hagen. "The trail is easy to find and usually well-packed by other hikers. For those who want to squeeze the last bit of heat out of the season, the Castle Lookout trail along the Bow Valley Parkway has big vistas and can feel surprisingly warm on sunny days thanks to its south-facing aspect. In Banff, try the shoreline of Lake Minnewanka. It's open and scenic and another place where sunshine feels especially good in the mornings."  
Article content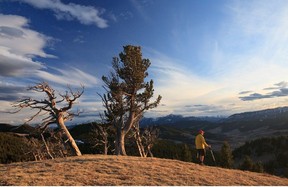 Due to the lack of people, I've always enjoyed the hikes in the Sheep River Provincial Park area west of Diamond Valley. High Noon Hills, Foran Grade, and Mesa Butte, which is located in the Mesa Butte Provincial Recreation area, are personal favourites. Due to its south-facing aspect, Mesa Butte – a relatively quick scamper up to a pine-coated knoll with stunning views – always seems to be good late in the fall and in early spring. The proximity of these hikes to Calgary (less than an hour to get to the trailheads) is another draw. Before heading out, I always check weather forecasts, check for road closures, and trail conditions, and read recent trail reviews on apps such as Alltrails and Trailforks.  
Unquestionably, the payoffs of hiking in the shoulder season are numerous. On those "normal" days when the temperature is moderate and the winds are calm, it can be spectacular. Fresh snow on the peaks, moody fog banks, frost-coated trees, frozen waterfalls, beautiful Chinook clouds, clear skies, no bugs, and no crowds are just some of my favourite aspects of hiking in the shoulder season. 
To top it off, the majority of the bears are in hibernation (I'd still pack bear spray) and zombie sightings are also quite rare (they don't make zombie spray.)   
Andrew Penner is a freelance writer and photographer based in Calgary. You can follow him on Instagram @andrewpennerphotography.