'From a sport point of view it's a mission-critical piece'
Article content
There's no business like snow business in Canmore.
It's fuelled by the legacy of the 1988 Olympic Winter Games in Calgary, which continues to drive successive generations to push for podiums.
Article content
The Canmore Nordic Centre was built for those Games and is undergoing its second round of major renovations.
The provincially funded $17.5-million project announced last summer will triple the size of its snow farm, known as Frozen Thunder, construct a new building for the biathlon facility and add a balcony on the day lounge.
Article content
The aim is to maintain its International Ski Federation and International Biathlon Union World Cup host status, chase world championships and create champions.
"From a sport point of view it's a mission-critical piece," said Norbert Meier, event chair for the 2024 Cross Country World Cup and the Alberta World Cup Society. "Like any other asset, if you don't renew, you don't get to use it for the long term, and that's really important from a generational standpoint. We want kids to come here and be inspired to do these sports or do any sport . . . not just for their own lives and well-being but for what it means to the community and for their own healthy lifestyles."
Related Stories
35 years later, Calgary's Winter Olympics legacy lives on but starting to show its age

Alberta exploring potential joint bid to host the 2030 Commonwealth Games

Town of Canmore fights proposed heliport development, citing community impact

WinSport's day lodge to get $40-million renovation
The most noticeable transformation is the new biathlon building, which will serve as a hub for major events. With evolving standards and new requirements for hosting these elite competitions, more space was needed, while the original building was outdated and small.
Article content
The state-of-the-art new facility will house all broadcasters, race administrators and other requirements of top flight competition. Construction is underway and is to be completed by the end of 2023.
Expanding snow farm provides Nordic Centre with opportunities
Arguably more important is the expansion of the snow farm, which will account for between $750,000 and $1 million of the final tab.
Frozen Thunder was built eight years ago and cemented the facility as Canada's top Nordic training facility. Frozen Thunder begins producing snow using snow guns in January until the weather turns warm. The pile is then covered by sawdust that acts as an insulating barrier and keeps the snow through the hottest stretches of summer.
The farm allows for the creation of trails in the fall, attracting elite athletes from across the country and the world to train. It also supports the first Alberta Cup race of the season in December for 500 kids, 14 years and under.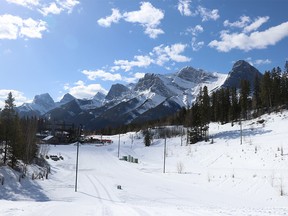 The expansion will increase capacity from 12,000 cubic metres of snow to an estimated 35,000 cubic metres, putting it on par with some of the biggest snow farms in the world.
Article content
Before this expansion, it could groom about two to two and a half kilometres of competition-level trails. Starting in the fall of 2024, that will increase to an additional four kilometres of recreational level trails, making the site more accessible to more people earlier in the year.
Nordic Centre looking to host one major international event a year
This is the second major renovation of the Nordic Centre since it opened in 1988, three and a half kilometres outside of Canmore.
The first round of upgrades came in 2005 at a cost of $25 million in an effort to re-establish it as a world-class site, capable of hosting major international events. In those renovations, the course was completely restructured to make it more difficult and better for the audience in attendance and watching on TV. The day lodge was also revamped and the facility as a whole was brought up to grade, including the installation of roller ski trails for dryland training in the summer.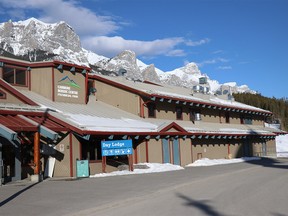 Since then, it has hosted six FIS World Cups and three Para-Nordic World Cups. A World Cup scheduled in 2020 was cancelled due to the pandemic. It most recently hosted an IBU World Cup in February.
Article content
The goal will be to host one major international event a year.
Meier said each World Cup event has an $8-million impact on Canmore, a $ 1-million impact on the province and a $500,000 impact on Canada as a whole. The event essentially serves as a weeklong advertisement broadcast to Europe and other major competing nations while attracting hundreds of athletes and personnel for seven days at a time, as well as volunteers from across Alberta and 5,000 spectators a day.
The Nordic Centre is a year-round training and recreational facility and also draws runners, cyclists and hikers in the warmer months, while bringing in tourists from across Alberta and B.C. for weekend ski trips and excursions, breathing economic vibrancy into the region 12 months of the year.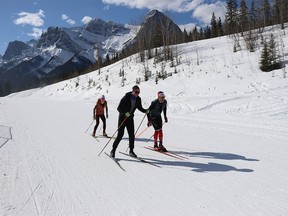 Nordic Centre an inspiration for local athletes
Chandra Crawford, 39, and her sister, Rosanna Crawford, 34, grew up in Canmore and credit the facility with playing a major role in their success — each competing in three Olympic Games.
Chandra earned gold in 2006 in Turin in cross-country sprints, and won two World Cups in 2008, including in Canmore, along with five other World Cup podiums in her career. She also competed in the 2010 Vancouver Games and the 2014 Games in Sochi.
Article content
She said the Nordic Centre sparked her love affair with biathlon and then cross-country skiing.
She does not remember much from the '88 Olympics as she was just four years old at the time — she was a big fan of mascots Hidy and Howdy — but it was the next wave of champions that inspired her. She watched the likes of Becky Scott and Myriam Bedard train and compete, and learned from Sara Renner and other top Canadian Nordic athletes.
"It's really everything to me," she said. "If I was born somewhere else I would have been drawn to something else. I have this amazing situation, the chance to grow up in this inspiring setting with the people — being mountain climbers or national team members."
With improvements, next generation will be able to use Nordic Centre
Improving the facility will serve the next generation of young athletes while offering grassroots and university-level competitors a world-class centre to train and compete in their own backyard.
"It's an investment in the economy and tourism and an investment in national pride, our kiddos believing in their dreams," she said. "It means a lot to me that we get to keep it going."
Article content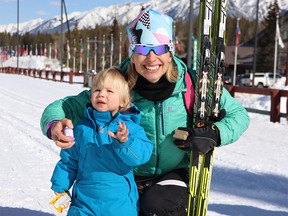 Rosanna competed in the biathlon in 2010 in Vancouver, 2014 in Sochi and 2018 in Pyeongchang, with her best result being eighth in the relay in Russia. At the World Cup in 2017-18 in Ruhpolding, Germany, she had her best international performance, winning bronze in the 15-kilometre individual event and finishing fourth in the mass start. In 2012-13 she was named Biathlon Canada's Female Athlete of the Year.
Being able to race in Canada is a rare treat for Canadian athletes — from having a home course advantage to performing in front of friends and family, and giving local exposure for sponsors.
Earlier this year she and her family moved back to Canmore, and she has hardly missed a day at the facility — but with more of a recreational workout, having retired in 2019. Still, she sees the importance of the work being done.
"It's so great to see," she said. "Biathlon is such an exciting sport to watch. So if we can hold more World Cups and IBU Cups and world juniors and have all these elite level athletes come over here and race . . . then it motivates and breeds the next generation of athletes."
Twitter: @JoshAldrich03