"We've been able to do something that nobody else does in the world"
Article content
Back in the early 1920s, things were looking bleak for the annual Calgary Exhibition.
Due to lower attendance and a grim financial outlook, exhibition manager Ernie Richardson was searching for unique ways to increase the profile of the show.
Article content
As author Glen Mikkelsen details in his book, The Rangeland Derby: 100 Years Of Chuckwagon Racing At The Calgary Stampede, Richardson eventually made the shrewd decision to partner with Guy Weadick to create the Calgary Exhibition Stampede and Buffalo Barbecue in 1923.
Article content
"It would be kind of like harnessing yourself to a tornado with Guy Weadick," says Mikkelsen of what it was like for Richardson to get into business with Weadick. "He's just such a colourful and forceful personality. He just had all sorts of different ideas and he brought those to the 1923 Stampede, including chuckwagon races."
In 1912, Weadick convinced the Big Four — ranchers George Lane, Patrick Burns, A.E. Cross and A.J. MacLean — to finance his Stampede, which took place from Sept. 2 to 5 that year.
Although Mikkelsen details in his book that the first Stampede was "a rip-roaring success," it wasn't to become an annual event until Richardson joined forces with Weadick 11 years later.
"He had seen the success that Weadick had in 1912 and then again in 1919 for the Victory Stampede (another successful one-off event in Calgary), and thought that if he worked with Guy, maybe they could do something together collaboratively and help bring more people to the exhibition, so that's how the Calgary Exhibition and Stampede was created," says Mikkelsen, who combed through old newspaper articles — a large majority from editions of the Calgary Herald in the 1920s and later from both the Herald and the Calgary Sun — to detail how chuckwagon racing propelled the Stampede to another dimension.
Article content
"It's the combination of those two men that helped put the chuckwagon races on, brought them to the public and, for whatever reason, it captured the imagination and just built from there."
In his book, Mikkelsen details how Texas cattleman and trailblazer Charles Goodnight is credited with creating the "chuck wagon," which was aptly named because "chuck" was the cowboys' term for food.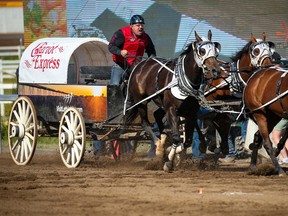 Often going by the moniker of "Cookie," the cooks were the rulers of "these rackety chow wagons," writes Mikkelsen, who was asked by the Stampede's historical staff to do a presentation every night of this year's 10-day show in the Victoria Pavilion at 5:30 p.m. to further explain the origins of the unique sport.
"I consider it to be Canada's greatest race, and I think that it's something that Calgarians and Albertans should be tremendously proud of," said Mikkelsen, who writes about how the cooks eventually started racing their wagons, mainly out of necessity, to beat their rivals to the next camp location to set up in the ideal spot. "I also think Canadians as a whole should be tremendously proud of this race that is done only really professionally by Canadians.
Article content
"We've been able to do something that nobody else does in the world and showcase the talents of both these drivers, the commitment of their families, but also to showcase the talents of these amazing horses that these families take tremendous, great care of."
In addition to thanking all the reporters (with a special shout-out to retired Herald scribe John Down) who covered chuckwagon racing over its 100 years of existence, Mikkelsen praises Billy Melville "for sharing his encyclopedic knowledge of chuckwagon racing" in the acknowledgements section of his book.
Known for jumping in the back of chuckwagons to interview the winning drivers of heats during television broadcasts (first on CBC in 2013 and now on Sportsnet in Canada and the Cowboy Channel in the United States), Melville also serves as colour commentator on radio broadcasts during the World Professional Chuckwagon Association (WPCA) season.
"It's the only professional sport that's born and raised in Alberta," says Melville, who exudes passion about the sport that his grandfather Orville Strandquist excelled at as both a driver and an outrider for five decades. "John Down even said, it's the third-largest spectator sport in Alberta after professional hockey and professional football, and I agree with him on that.
Article content
"A lot of the traditions that the Stampede holds dear as Stampede traditions wouldn't have happened if there weren't the chuckwagon races," continues Melville, who's also proud of his younger brother Eddie's storied career as an outrider, which includes riding for his grandpa during the 1991 Stampede. "I do think that the chuckwagon races are the single event that separate and elevate the Calgary Stampede head and shoulders above any other event of its kind in the world."
While Melville can talk in detail about the history of what's now known as the Cowboys Rangeland Derby, he's even more passionate to tell anybody who will listen that it was the chuckwagon drivers who first brought pancake breakfasts to the masses in downtown Calgary back in 1923.
"Friday the 13th happened to be a very significant day, that was the last day of the wagon races that year," recalls Melville. "Jack Morton, who was one of the original six participants, he brought his whole crew and they came whipping downtown with the wagon . . . and started cooking the pancakes."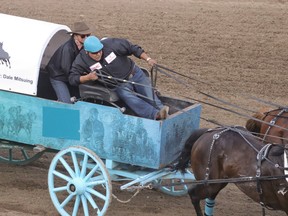 On what's now known as Stephen Avenue Walk, cook Horace Inkster was in charge of grilling the flapjacks that he and Morton's crew served to the masses.
Article content
"These morning Stampedes would draw 10,000 people," said Melville. "Basically, they cooked the pancakes. They offered them butter and syrup. They told them whatever kind of story they wanted to hear. They basically invited the crowd in to share: 'Who wants 'em? Who's hungry?'
"People started lining up and they just kept cooking pancakes and that was really the first pancake breakfast that has been adopted as a Stampede breakfast. That all started because of the chuckwagons and Jack Morton."
While Morton was making headlines off the track, it was the Mosquito Creek Ranch outfit — driven primarily by Bill Summers — which was crowned as the inaugural champion for winning the most races over the five days of action.
Tom Lauder went on to win the Stampede's chuckwagon races the next year, as well as in 1926 and 1927.
Although Lauder's son, Jack, never won the Rangeland Derby as a driver, he eventually captured the Calgary Stampede Championship as an outrider in 1946 for his brother-in-law Ronnie Glass, who married Lauder's daughter, Iris.
Related Stories
Stampede spirit: Why the Greatest Outdoor Show on Earth still matters

Stampede Grandstand Show to put on 'best block party ever'

Stampede relocates Coca-Cola Stage, Voila's Dog Bowl to improve safety, accessibility
After Ronnie Glass won four Stampede titles (1941, 1946, 1947 and 1949), his son, Tom, carried on the family tradition by also capturing the crown on four occasions (1983, 1987, 1992 and 1994).
Article content
Lauder's great grandson, and current WPCA Pro Tour and Cowboys Rangeland Derby competitor, Jason Glass then punctuated four generations of chuckwagon driving excellence by winning his first and only title, so far, in 2013.
"Some of the families that are involved with it today were involved in 1923," says Will Osler, who serves as president and chair of the board of the Calgary Stampede. "It's a real family affair. When someone says that chuckwagon racing's in their blood, they really mean it."
Wagon racing was definitely in the blood of both Dick Cosgrave and Kelly Sutherland, the most decorated drivers in Rangeland Derby history.
After Cosgrave won his first title in 1926, he went on to capture nine more. Sutherland burst onto the scene in the 1970s and eventually surpassed Cosgrave as the winningest driver in Calgary Stampede history when he captured his 11th and 12th titles in 2010 and 2011.
"The sport means so much to the Stampede," says Osler. "It means so much to everything we're trying to do here in terms of celebrating western culture and our western history and traditions. The fact that they started the first one 100 years ago — that's remarkable and there's nothing else like it anywhere else.
"There never has been, and the fact that after all those years it's still here and thriving means a lot to us. It means a lot to the city, the province. It means a lot to the families that are involved."