'All viable options' within Calgary's downtown core — including the West Village — are being considered
Article content
A new events centre in Calgary isn't anchored to the Victoria Park location where a previous deal would have seen a replacement for the Saddledome built.
Ongoing negotiations for the arena are looking at "all viable options" within Calgary's downtown, event centre committee chair Coun. Sonya Sharp told reporters Monday following that committee's first meeting of the new year.
Article content
Sharp wouldn't comment on specifics, but didn't quash the suggestion that the West Village site previously under consideration could again be part of the conversation.
"When you go back to the conversation we had in the fall, we talked about this being a fresh start, so this is a fresh start," Sharp said.
"We're looking at building an event centre within the city, within downtown, and all possible options will be presented."
The previous, $650-million deal between the city and Calgary Flames ownership fell apart in late 2021 over cost overages, just weeks before construction was to begin.
That deal would have seen the arena built in Victoria Park at the city's Rivers District around the Stampede grounds, with the new building to be the marquee piece of plans to redevelop the area.
Back in 2015, Calgary Sports and Entertainment Corp. (CSEC) unveiled plans for the CalgaryNext arena project in the West Village. The plan, which would have included an $890-million arena, fell apart two years later in part due to remediation costs associated with city-owned creosote-contaminated land near the Bow River.
Article content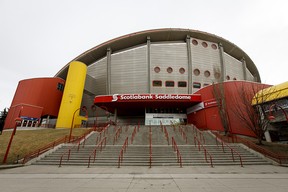 Negotiations 'progressing well'
Monday's meeting came about four months after the city and CSEC restarted formal discussions on a new arena, but details remain elusive.
Sharp said talks were "progressing well" between the CSEC and CAA-ICON, a United States consulting firm hired to represent the city at the negotiating table.
An update on the negotiations took place behind closed doors at city hall on Monday, with city staff, some council members and CAA-ICON present.
There's no firm timeline, Sharp said, but reiterated the city is looking to be "as aggressive as we can" in putting a deal together.
Related Stories
Varcoe: Premier points to Edmonton as 'model' for Calgary arena deal

Premier Danielle Smith offers help to City, Flames organization on new arena deal
"We do know that because time is of the essence, we're also working with cost escalations. We know with projects, the sooner they happen the better when it comes to time and money," Sharp said.
In October, Premier Danielle Smith appointed local MLA Ric McIver as the provincial government's liaison on arena talks, saying she wanted to identify ways her UCP could help the parties strike a new deal.
Article content
Sharp revealed Monday that CAA-ICON representatives have met directly with Smith's office, and said those conversations are expected to continue. The premier's office told Postmedia on Monday that officials would not comment on arena negotiations "until the involved parties have something to report."
The event centre committee is expected to meet again next month.
Saddledome 'has a vintage vibe'
Calgary's arena situation appears to be on the mind of Flames free-agent centre Nazem Kadri, who said last week he's hopeful a new arena for the team is in the cards.
"(The Saddledome is) a unique arena. It's old, but we might be due for a new one sometime soon here," Kadri told Sportsnet while in Florida for the NHL All-Star Weekend.
"It's just got a vintage vibe. It reminds me of the rinks I used to go to when I was a kid."
Twitter: @jasonfherring