The Pembina Institute said its own research found multiple ways for Alberta's power system to reach net-zero emissions by 2035
Get the latest from Chris Varcoe, Calgary Herald straight to your inbox
Article content
While Alberta demands a longer timeline to meet the clean-electricity rules coming from Ottawa, federal Environment Minister Steven Guilbeault said there will be no exceptions for provinces to attain a net-zero power grid by 2035.
Alberta Environment Minister Rebecca Schulz called the remarks "a slap in the face" as talks between the two sides continue.
Article content
The comments come a day after Alberta Premier Danielle Smith termed the draft Clean Electricity Regulations (CER) "disastrously uninformed and totally disconnected from reality," maintaining they could lead to blackouts in a province that relies on natural gas to keep the lights on.
The UCP government has initiated a $8-million national advertising campaign opposing the federal plan, which would require electricity grids across the country to be net-zero within a dozen years, instead of Alberta's push for 2050.
"I would call on Premier Smith to work with us constructively to ensure that these regulations are the most efficient for all Canadians," Guilbeault told reporters on Friday.
Related Stories
Alberta prepared to use sovereignty act over proposed clean electricity regulations: Smith

Varcoe: AESO warns of blackouts with feds' plan for a net-zero power grid by 2035
"We have a working group with the government of Alberta which looks specifically at those regulations, and we will be, as well, looking at the oil and gas cap regulations that will be coming up by the end of the year …
Article content
"But there will be no carve-out for a province. How fair would it be for the rest of the federation if we started carving out exceptions for provinces?"
Alberta wants to see the federal timeline shifted to 2050, giving utilities more time to invest in technology to decarbonize while ensuring there's enough gas-fired electricity generation to back up the growing amount of intermittent renewable power in the province.
The proposed regulations were unveiled last month and are open for comment until early November. They do not entirely stop the use of gas in power generation after 2035, but would sharply limit its use if a facility isn't tied to carbon capture and storage.
Guilbeault said the draft rules already contain flexibility mechanisms for utilities to reach the federal goal.
"These regulations will not prevent the use of natural gas for electricity production. This is not a 'no fossil fuel regulations' for 2035 … but our goal is to minimize the emissions from electricity produced through gas," he said.
"That's what fighting climate change looks like — limiting the amount of fossil fuels we're using."
Article content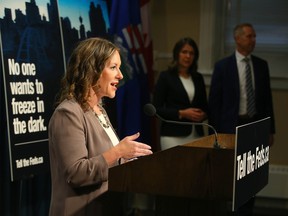 Schulz said the comments from her federal counterpart are "infuriating, especially given we are at the table in good faith" through a joint federal-provincial working group.
"We are not asking for a special carve-out. We are not asking for special treatment," she said.
"What we are asking for is the ability to deliver on our area of provincial jurisdiction, which is to provide affordable and reliable power to Albertans. We're not the only province in this position right now."
The latest exchange comes with both sides disparaging the other over energy and climate policies, including the electricity regulations and incoming oilpatch emissions limit.
On Thursday, the Alberta Electric System Operator (AESO) took the unusual step of criticizing the federal plan, saying it wasn't feasible for the province to meet the national electricity target.
AESO officials believe it could lead to inadequate power supply after 2035 and potentially trigger blackouts. Wholesale electricity costs in the province's deregulated system would be $118 billion higher than extending the transition until 2050, according to its analysis.
Article content
The decarbonization task for Alberta is significant, as 72 per cent of electricity last year came from gas-fired generation and another 12 per cent from coal. Alberta has the highest provincial emissions in the country.
With the phase-out of coal-fired electricity generation completed next year, Alberta will need natural gas to provide baseload power in the province, said AESO chief executive Michael Law.
"The CER does not recognize the provinces are at different starting points," Law said.
"Alberta is at a huge disadvantage and faces a much greater challenge to decarbonize its power system than most other provinces."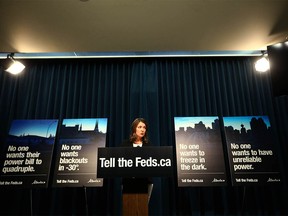 Jason Wang of the Pembina Institute called upon the AESO, which manages the provincial electricity system, to release the full analysis that supports its claims, and noted his group's own research found multiple ways for Alberta's power system to reach net-zero emissions by 2035.
"What the province has been asking for — for flexibility for gas to still be available — these are things that the clean electricity regulations actually offer," he said Thursday.
With the phasing out of coal, emissions from the province's electricity sector have dropped more than 44 per cent to 27.7 megatonnes since 2005.
The AESO believes carbon capture, energy storage, hydrogen and small modular reactors are promising technologies for the provincial system, but firm infrastructure to underpin the grid is still needed.
"The piece about no flexibility is worrisome to me because that is exactly what we're looking for," Schulz added.
"As provinces, we all have unique situations when it comes to our grid."