Reviews and recommendations are unbiased and products are independently selected. Postmedia may earn an affiliate commission from purchases made through links on this page.
Article content
If Glenbow regulars had wandered into the building a few weeks back, they would have seen scant reminders of the museum's former self.
One of them was Glenbow's main staircase on the first floor. It was still standing at that point, or at least its skeleton was. By now, it's probably gone as well.
Article content
The Glenbow has been a construction site for the past two years and will be for the next two. It will not be open to the public again until 2026, two years later than originally stated. The ambitious project, which will eventually cost $205 million and has been dubbed Glenbow Reimagined, represents a total overhaul of the 312,000-square-foot museum, which was built in 1973. To an outside observer, including a small group from Postmedia who went on a tour of the project a few weeks back, it looks and feels like a construction site: noisy, unfinished and partially gutted. There are roughly 150 workers there every day.
Article content
But for those in the know, such as Glenbow CEO Nicholas Bell, every day is a new adventure.
"It is fascinating for us as an organization to have witnessed every stage of this project," says Bell. "Three years ago, we were all looking at plans on paper. We were imagining what galleries could look like, we were imagining how to bring the public into every floor of the building, we were anticipating what it would feel like. But it was all plans.
"We are starting to see those plans turn into a reality and it changes every day. Even if I was here yesterday, there's something gone that was here yesterday and there's something new that's been built since yesterday. It's a constantly evolving site."
At the time of this tour, roughly 55 per cent of base construction was complete. So it still took some imagination to fully grasp what the transformation will mean to the Glenbow and the downtown core in general.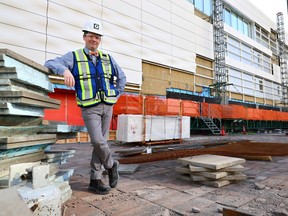 The bottom line is that the new Glenbow will indeed be reimagined, both physically and philosophically. Structurally, the changes will be startling and, for many, long overdue. Back in the summer of 2020, Bell's blunt synopsis of the physical transformation was that it would "open this box up" and shed that dated 1970s, bunker-like feel of the space. Among its many drawbacks was that it seemed cramped, had no natural lighting and no street-facing entrance, Bell says. 
Article content
"I never thought that I would have to say this in my museum career: one of the improvements of this renovation is that we will finally have a front door," Bell says. "This is still the only museum globally that was built without one."
So part of the new design, led by Calgary's DIALOG, will include a major entrance along Stephen Avenue and a secondary one on 9th Avenue. The museum's new two-storey 165-seat theatre will also face 9th. On the fifth floor, there will be a 13,000-square-foot rooftop terrace with a pavilion and public spaces looking out to the Calgary Tower. Floor plates are being cut away for double-height exhibition spaces – including the new salon gallery, created when the floor was cut between the third and fourth levels – and skylights and windows are being installed to allow natural light into the building for the first time in its 50-year history.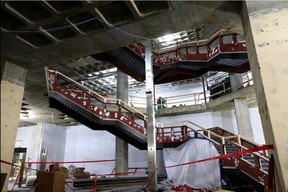 While that iconic staircase will be removed, it will be replaced by a stair core that will allow public access to all eight floors. Yes, perhaps unbeknownst to some, The Glenbow is actually an eight-storey building. All eight storeys will have public galleries in the future design, which represents a major shift from the old Glenbow. While the museum will still host travelling exhibitions, these new display spaces will allow Glenbow to more frequently showcase its own impressive collection of 250,000 artifacts and works of art. The stored collection itself – which will remain at the museum throughout the renovation in custom-designed storage spaces – will also be more accessible to the public, who will be able to see much of the collection even when it is not officially on display.
Article content
"If I walked down Stephen Avenue today and asked 100 Calgarians 'How tall is Glenbow?' 90 of them would tell me four storeys tall," Bell says. "Because for 50 years of our history, that was the limit of your public access. So much of our space was back of house, including on these lower floors. We need to turn that ratio around. So what you are seeing today is that we are actively building public galleries, and visitor experience spaces on all eight floors of the building. I fully anticipate people will walk in here and say 'Hey, the building got taller.' "
The renovations were first announced in early 2020 and initially, the building was going to reopen in 2024. Staff began moving out of the building in late 2020 and soft demolition began. EllisDon, the construction manager, began heavier demolition in mid-2021. Construction is being done in phases.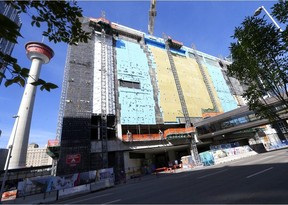 The discrepancy in the reopening date was due to the timing of funding approval from the federal government, Bell says.
"That timeline was always dependent on when certain tranches of money was unlocked," Bell says. "We didn't get the green light to begin the whole-building construction until the spring of 2022, so that pushed everything. We've divided the renovation into phases. We were able to complete the first phase (on the upper floors) by the end of 2021. But then the bulk of it, about three-quarters of it, we had to wait until we got a green light from the federal government and that didn't come until the spring of 2022. So that's when we began the rest of this in earnest. When we had stated 2024, we didn't know exactly when that timeline would be. We were being optimistic, I think."
Article content
The current timeline will see base construction completed by the end of 2024, which will also mark the return of some of the staff. A lengthy period of testing the heating, ventilation and air conditioning systems to ensure Glenbow meets global standards for museums will begin in early 2025, which is also when the fifth-floor terrace and the galleries will be completed. The goal is to open in early to mid-2026.
"It's quite a procedure to get back into the museum," says Bell.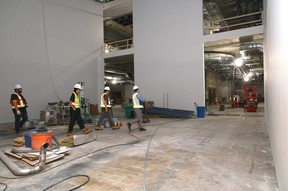 As for funding, the campaign continues. Roughly $170 million of the $205 million required has already been raised, which Bell points out is an impressive feat given that zero dollars had been raised when the project was first envisioned in 2020. So far, the project has received $40 million from the province, $40 million from Ottawa and $37 million from the City of Calgary. In February 2022, the family of Calgary businessman JR Shaw donated $35 million. That donation will allow the Glenbow to permanently offer free admission to visitors once the museum reopens. A further $1-million donation from George and Colleen Bezaire will fund a third-floor feature gallery named The Bezaire Family Gallery.
Article content
The base building will cost $130 million and the remaining $40 million will go to building the fifth-floor terrace and for programming.
While the new design is front-and-centre, the reimagining of Glenbow obviously runs deeper than bricks and mortar. Bell said programming will reflect a new philosophy at the museum. The third-floor Blackfoot Gallery will return permanently. Amid the floors that house Glenbow's archives will be rooms that hold sacred and ceremonial belongings and will be specifically designed for ceremonies to be conducted. There will also be community rooms and reading rooms to allow visitors to make "deep dives into our collection," Bell says.
"It was all kind of ad-hoc, there was no designed space," Bell says about the previous building. "It was to the point where we would have people doing smudges in the corridor because you have no room and we'd have to have to turn off the (smoke alarms.) One of the conversations we have around decolonization is how do you design a physical space so it supports a reconciliatory relationship? One of those things is actually designing spaces that allow for sacred and ceremonial activity, which we didn't have previously."
Article content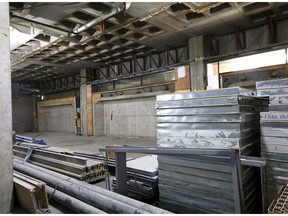 The Blackfoot Gallery will be a permanent exhibition at Glenbow moving forward, which aligns with the organization's commitment to "Treaty 7 nations and the Blackfoot communities from here down to Montana to have the opportunity to tell their own stories around their culture," he says.
But there will be no other permanent exhibitions, which is another shift in philosophy for an organization that once held permanent spots for exhibitions dedicated to everything from minerals to the history of Alberta.
"We found that was demotivating to our public," Bell says. "If you come here once every 10 years and it's the same program, what is to make you come back? It leads to something that we call generational visiting. We would say to people 'What do you think of Glenbow? How often do you come?' They would say 'I love Glenbow. I went there as a kid and then I came back as a parent and I'll definitely bring my grandchildren here someday.' Coming here every 25 years is not sufficient, it means we are not adequately serving you. But it also isn't sustainable as an organization. The idea is that in the future not only will we have more gallery area but we'll be turning those galleries over on a more frequent basis, essentially so you will be able to see more of these collections brought down into public view."
Article content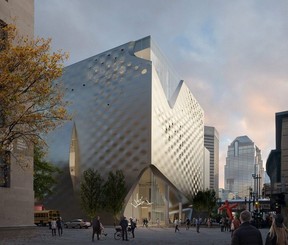 The result will be a facility at the heart of a revitalized downtown that Calgarians can take ownership of and make a permanent part of their lives. But Bell sees the renovations as having a broader impact nationally as well. With rising construction costs, several ambitious projects have been shuttered across the country. Last summer, for instance, plans to build the Art Gallery of Nova Scotia were put on hold indefinitely as were plans to redevelop the Royal B.C. Museum in Victoria.
To build a new museum in Canada costs $1,500 per square foot, while Glenbow's renovation is $400 per square foot, says Bell. Glenbow is setting a "best-practice example for economic revitalization of cultural infrastructure that we hope will be recognized and repeated in other Canadian cities."
"Every Canadian city has this same era architecture because they all built new civic spaces in the centennial," Bell says. "In the late '60s, early '70s, there was a lot of federal funding for civic space in Canada. Most Canadian cities have either performing arts centres or museums that date from this era. They are all failing at the same rate. All of these communities are trying to figure out: 'What do we do with our museums? What do we do with our performing arts centres? What do you we do with our theatres?' We think that Glenbow provides that answer."