'Nobody spends more time on a mobile device than a farmer, so developing plans and strategies to reach (farmers), it's changed immensely'
Article content
For Ben Graham, email was a new thing when he started working in the agriculture marketing and communications industry.
How times have changed.
Article content
Graham, president of Calgary-based AdFarm, Canada's largest agriculturally-focused marketing and communications agency, has had to keep up with technology as it evolves, from email to the newest, big change — artificial intelligence.
Article content
"We're under pressure with AI and all these other trends," said the 54-year-old, who received a lifetime achievement award from the Canadian Agri-Food Marketers Alliance last week in Winnipeg. "We have to be cutting edge."
AdFarm works with agriculture and food companies to develop marketing and communication strategies aimed at reaching specific audiences within the agriculture industry. Over the years it has worked with big names in agriculture such as Bayer CropScience, Corteva Agriscience, machinery manufacturer New Holland and fertilizer producer Nutrien, as well as industry organizations such as Alberta Beef Producers and Canola Council of Canada.
"Nobody spends more time on a mobile device than a farmer, so developing plans and strategies to reach (farmers), it's changed immensely from a traditional ad in a newspaper or radio commercial all the way through to a really integrated e-automation campaign," he said.
'Human direction' still needed amid AI use
AI can be used in many ways, but must be directed properly, with clear thinking, to get anything of value from it, said Graham.
Article content
"For us, we're looking at it from a creative standpoint, to help generate more volume and quality in creative," he said. "From a content creation standpoint, there's ways to use it there to augment content, whether it's social media or digital."
Related Stories
Alberta Grains first executive, from Calgary, up for the challenge of learning about agriculture

'The saving grace for agriculture': Farmers look to irrigation amid climate woes

Tech, sustainability key to attracting young talent to an evolving agriculture sector
Many in the industry feared job losses would occur in the marketing and communications field as a result of AI use, but that hasn't happened and AdFarm has instead continued to grow, said the company's president.
"Without that human direction, (AI) still has its limitations, so it hasn't affected our workforce at all," said Graham.
Graham foresees no effect of AI on AdFarm's workforce in the "near future" because specific agricultural knowledge is required to drive the technology.
"Ag is such a detailed, diverse industry, whether you're growing livestock or planting unique seeds, to pasture management," he said.
Article content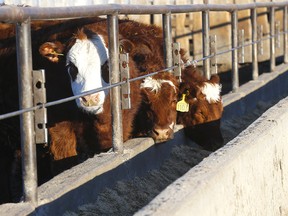 'Astronomical' changes ahead for agriculture: AdFarm president
While companies used to have time to adapt once a technology, such as email, reshaped the landscape, continual change is now the new normal thanks to ongoing technological advancements, said Graham.
In agriculture, new technologies are coming in which some regulatory guidance is going to be needed, he added.
"Like when you look at auto-drive technology, agriculture, especially in farming, has adopted auto-steer. Technologies like that, they were adopted not only fast but across the sector. Robotic milking, feed technologies — all those things have happened very fast in agriculture.
"You add in that artificial learning component, the amount of change that's going to happen in agriculture in the next five years is astronomical."
Internet connectivity and data access in rural areas are improving with technologies such as SpaceX's satellite Starlink satellites, which have "plugged a lot of holes" in connectivity issues, said Graham, whose family has farmed near Vulcan for 119 years.
"That was the kind of the holdback that now is unleashing the next way of technology in agriculture," said Graham.