Article content
Some of Canada's best known Dragons' Den stars, including a pair of power siblings from Calgary, have joined a group making an ownership bid for the Ottawa Senators.
Four Dragons — Arlene Dickinson, Robert Herjavec, Wes Hall and Manjit Minhas, along with her brother Ravinder — are working with the bid group that already includes celebrity rapper/actor Snoop Dogg, comedian Russell Peters and Olympian Donovan Bailey.
Article content
"Ravinder Minhas and I are thrilled to join the bid for the Ottawa Senators NHL team," Manjit Minhas confirmed on Twitter Monday evening.
A few hours earlier, a Business Wire news release revealed the names of the latest high-profile Canadians that are becoming part of the Neko Sparks Group bid for the team.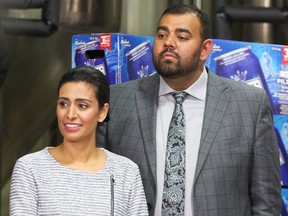 "Manjit Minhas and Ravinder Minhas have extensive experience in building global liquor brands, entertainment content and massive supporters of diversity in sports and business," said Sparks, a Los Angeles-based producer who is aiming to create the first Black-led ownership group in the NHL.
In the news release, Hall said: "Supporting a BIPOC-led bid is everything for me. This would be a significant and historic move and I'm proud to be bringing fire to the ice."
Calgary native Dickinson added, "I'm just so excited for this. Neko's vision and commitment are easy to get behind. We're 'in' with our capital, and of course our commitment to the Ottawa Senators."
Sparks said the value these five new investors bring to the bid is "invaluable," praising Dickinson as an iconic entrepreneur who's had significant success in marketing and investing. Hall is one of the country's most influential businesspeople, while Herjavec has extensive customer and data analytic skills, Sparks noted in the news release.
Article content
The Ottawa Citizen reported last week that Quebec First Nation community Kitigan Zibi Anishinabeg confirmed it was endorsing the Sparks bid. The community has a land claim on LeBreton Flats, one of the locations where the Senators are considering building a new arena.
Last March, Senators owner Eugene Melnyk died, leaving the team to two daughters. In November, the Senators Sports & Entertainment board of directors said the club would be sold. May 15 was the deadline to submit purchase bids, of which there were reportedly four, the Citizen reported.
The Citizen also said Monday that actor Ryan Reynolds has shut the door on owning the Senators.
Sources close to the Vancouver-born actor told Postmedia Monday other groups involved in the bidding process have reached out to Reynolds in the last week and he's turned down offers to be part of other groups, according to hockey columnist Bruce Garrioch. Reynolds had been part of a potential bid including Markham-based developer Chris Bratty and the Remington Group.
As Postmedia first reported, Toronto businessmen Michael Andlauer, Jeffrey and Michael Kimel, and Steve Apostolopoulos, along with Neko Sparks, submitted bids at last Monday's deadline.
The expectation is a winning bidder will be decided by New York-based banker Galatioto Sports Partners, the Melnyk estate and the National Hockey league sometime this week, said the Citizen.