Despite advancements in media, a big disparity remains in society between men and women, particularly in leadership positions, says Geena Davis.
Article content
When growing up in Wareham, Mass., Oscar-winning actor Geena Davis would act out scenes she would see on television with her best friend.
The Rifleman, a 1960s Western starring Chuck Connors as a rancher and Johnny Crawford as his son, was a favourite.
Article content
"I was raised on TV shows where there were very few female characters that I wanted to pretend to be," Davis told a Calgary audience Tuesday afternoon. "My best friend, Lucyann, and I, every day after school, would play characters from The Rifleman. Because I was taller, I would be the father, Lucas, and she would be my son, Mark. It never occurred to us that there weren't female characters that we wanted to play."
Article content
Davis has told variations of this story before to showcase the gender imbalance that has existed in television, film and the media in general. It's a topic that Davis, who launched the Geena Davis Institute on Gender in Media in 2004, has been speaking about for years. On Tuesday afternoon, she was the keynote speaker at the Axis Connects Leadership Forum: Breaking Barriers, Powering Possibilities at the Telus Convention Centre, and gave a talk called Gender Equality in the Modern Media.
While that was the focus of the talk, there was plenty to satisfy movie buffs as well. Davis offered a number of tidbits about her career, including stories of her debut in 1982's Tootsie, and her star-making turns in 1992's A League of Her Own and 1991's Thelma & Louise, which earned her an Oscar nomination. She spoke at length about the latter, a film that has been described as a "feminist awakening" with its tale about two friends who find themselves on the run after Louise (played by Susan Sarandon) shoots a man who attempts to rape Thelma.
The role of Thelma was not only a turning point for Davis' career but for film in general.
Article content
"There were these editorials that were denouncing this movie at the highest volume: 'The world is ruined. Now that women have guns, the world is ruined,' " Davis said. "If I had needed a lesson in the power of media images, I certainly had one now. It brought home to me in a very powerful way how few opportunities we give women to come out of a movie feeling empowered and inspired by the female characters."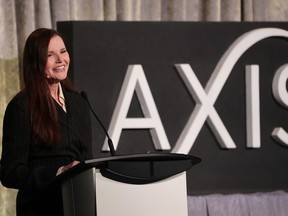 Champion for proper representation of women and girls in TV and film
Davis established her foundation when her eldest daughter, who is now 21, was still young and she became aware of the lack of female characters being presented in children's and family film and television. The organization commissioned the "largest study that has ever been done" on gender representation in movies and TV made specifically for children, covering a 30-year span.
"In a world that is half female, the data showed the message the media was sending was that women and girls had far less value than men and boys. In family films and kids' TV shows, for every one female-speaking character there were three male-speaking characters. We also saw that when female characters did exist, they were very often narrowly stereotyped and/or hyper-sexualized. This is in children's TV and movies."
Article content
Davis and her foundation continue to meet with content creators in the industry and said there has been a significant shift since 2004. At that time, only 11 per cent of popular films had a lead female character. The most recent data shows there is now gender parity in the lead characters.
Nevertheless, Davis said there remains a big disparity in every sector of society between men and women, particularly in leadership positions.
"How long is it going to take to correct that?" she said. "No matter how ferociously we work on this problem, we can't snap our fingers and suddenly Congress is half women.
"How are we going to conquer the gender bias that is in all of us, conscious and unconscious, that is holding us back? This is my theory of dramatic change. There is one category of gross inequality that can be fixed absolutely overnight and it's one screen. But in the time it takes to make a new TV show, a new movie, we can change what the future looks like.
"The media itself can be the cure for the problem it is creating."
Related Stories
Sarandon and Davis reuniting to toast Thelma & Louise anniversary

Geena Davis: A director 'made me sit on his lap' during audition

Geena Davis wants more balanced gender representation in children's programming