Reviews and recommendations are unbiased and products are independently selected. Postmedia may earn an affiliate commission from purchases made through links on this page.
Article content
Most of us, regardless of cultural background, likely have a bottle of soy sauce in our pantry or refrigerator. The same goes for condiments and staples like olive oil, sriracha and other hot sauces, a variety of vinegar, and, increasingly, items like curry paste, gochujang and hot honey. But ghee, the caramelized and clarified butter essential to traditional Indian cooking? If you're not of South Asian descent or a particularly avid cook, you're unlikely to have a jar sitting in your cupboard.
Article content
This is something Vreshin Naga, the face and mastermind behind Vresh Foods and its flagship product, OG Ghee, is working hard to change. Naga is on a one-man mission (well, multi-man, thanks to the help of his business partner Thomas Theoharis and a team of supporters) to make ghee a go-to product for all Canadians, whether they're tackling a traditional Indian meal or want to add some flavour and dimension to their eggs in the morning.
Article content
Naga's ghee journey started, as so many modern food startups have, at the beginning of the pandemic. Laid off from his job in the construction industry, he comforted himself by cooking, with a focus on the Indian cuisine he grew up with during his childhood in Dubai. Naga is not one to sit on his laurels, so the cooking grew into social media posts, which kickstarted his Fresh with Vresh meal kits, a pandemic venture that became wildly popular with local foodies in the know.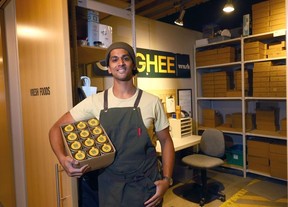 Naga's Fresh with Vresh customers started requesting to buy extra ghee to use with other meals and, as the constant cooking to maintain the meal kits became unsustainable, Naga recognized the potential of building a business based on South Asian pantry items. After a lengthy regulatory battle over the shelf stability of his ghee (because the milk solids are removed from the butter in the cooking process, ghee, like most cooking oils can happily sit open in your pantry as long as you'd like), OG Ghee was born in May 2022. Naga knew he had a great and versatile product. The next step was (and still is) educating people on how to use it.
Article content
"It should be a simple item for folks to get behind because it's just butter, but it's better from a flavour perspective because it's browned," he says. "It lasts longer, you can cook at higher temperatures, you can keep it at room temperature forever. There's more that you can do with it than with regular butter."
Obviously, ghee has long been available in Canada, but OG Ghee could be a game-changer in that Naga is providing a high-quality, locally-made product. His other secret weapon is his energetic marketing prowess. Other ghee brands tend to either come in old-fashioned stodgy packaging or go for an enlightened health food approach — OG Ghee's packaging is fresh and young and Naga can't and won't resist any wordplay or puns using the word "ghee," which removes the intimidation factor. Will that get Canadians slathering ghee on their toast in place of regular butter or using it to sear their steaks? Here's hoping.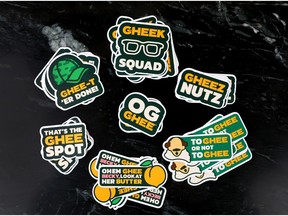 To move things along, OG Ghee has introduced new flavours to expand the public's perceptions of ghee. While Naga is a huge proponent of South Asian culture and encourages people to try their hand at traditional Indian cuisine, he's also created different flavours of ghee to nudge customers towards incorporating it into meals they already enjoy. In addition to the original ghee, Vresh Foods sells herb and garlic ghee (perfect for making garlic bread or tossing with pasta) and French-toast appropriate chai spice ghee, as well as two limited edition collaborations: an "Italian garden" flavour with Root and Regenerate Urban Farming and a coffee and vanilla variety made with Calgary Heritage Roasting Company coffee that truly tastes like a Coffee Crisp bar in spreadable form. It's tasty stuff that redefines an ages-old ingredient for a new multi-cultural market.
Article content
OG Ghee is available for purchase online at vreshfoods.com and is also available at a number of stores including select Safeway and Sobeys, Community Natural Foods, The Cookbook Company, and Lukes Drug Mart.
***
In other food news, tune into the 10th season of the Food Network's Holiday Baking Championship this week to cheer on local chocolatier Kevin Conniff as he competes for the $25,000 prize. Conniff is the force behind Sweet Bella Chocolates and is also a longtime pastry chef and instructor at SAIT's School of Hospitality and Tourism. The series begins Nov. 6 and Conniff is the only Canadian competitor on the show.
Finally, if you happen to be out in Banff or Lake Louise this week, the Taste for Adventure dining festival continues through Nov. 9. Over 25 mountain restaurants are participating, with special menus and events on offer at favourites like Juniper Bistro, Hello Sunshine, Brazen, and The Maple Leaf. For a full list of participating restaurants, visit banfflakelouise.com.
Elizabeth Chorney-Booth can be reached at [email protected]. Follow her on Instagram at @elizabooth or sign up for her newsletter at hungrycalgary.substack.com.