Reviews and recommendations are unbiased and products are independently selected. Postmedia may earn an affiliate commission from purchases made through links on this page.
Article content
Sometimes our favourite institutions can change without losing the essence of what they are. This has been the case for The Unicorn, the pub on Stephen Avenue that has existed in some form or another since 1979 (I'll spare you from doing the math — it turns 45 next year). Originally opened by the Irish Rovers and named after that group's signature song, the pub has gone through many iterations over the years, with the current three-storey "Superpub" version sitting on Stephen Avenue, just steps from the original location in the Lancaster Building, which is now home to the Simons store.
Article content
After transforming to the Superpub in 2016, it seemed like The Unicorn could rest easy with its three floors of brews and pub fare, but earlier this year the current owner group — Mark and Brenda Jennings, Wendy Irvine, Paul Worby and Taylor Magee-Worby — got the itch to expand further. Wanting to extend the traditional pub vibes of the original Unicorn to a more neighbourhood-like setting, the group took over a standalone building in Mission that was once home to Candela Lounge and most recently the short-lived College Bar, turning it into the new Unicorn on 4.
Article content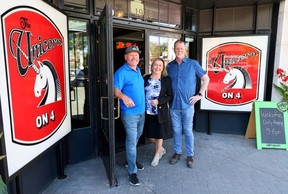 At approximately 150 seats (plus a patio coming for next summer) The Unicorn on 4 is significantly smaller than the Superpub location; think of it as a homier, "where everybody knows your name" version of the Stephen Avenue stalwart. The room has been repainted in The Unicorn's traditional colours and looks like a reliable old-school pub, with a large bar staffed by friendly bartenders, plenty of tables, and a fleet of televisions for sports fans. It's a pub: nothing more, nothing less, which is exactly what the owners intended.
Article content

"I don't want to be a part of the new 'in spot,' because those always have to change," Worby says. "We want to be a staple where people can be comfortable at all times. I want people to feel like they've walked into their house and not into a restaurant."
But The Unicorn on 4 is indeed a restaurant and, despite positioning itself primarily as a bar, is a pretty good one at that, with chef Brett McIntyre overseeing the kitchens at both locations. McIntyre's experience in higher-end restaurants translates to a menu full of dishes that largely fall into the category of pub grub, though executed with a noticeable level of skill and thoughtfulness. You've still got what the owners claim to be the best wings ($16) and nachos ($25) in town, and while there's nothing wrong with sticking to those sure-fire pub favourites, it's also worth trying the ultra-tender short rib yorkies with just a drizzle of horseradish aioli ($16.50), a luxurious lamb burger topped with a blueberry shallot compote and brie ($18), and, surprisingly enough, wor wonton soup with pork belly and steamed egg noodles ($18). It's a vast menu that mirrors that of the Superpub, save for the swapping out of pizza in favour of flatbreads to not to step on the toes of the numerous pizzerias in and around Mission.
Article content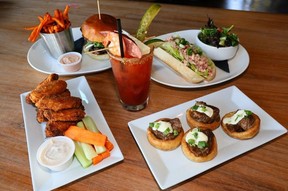 Of course, there are also plenty of drinks (it is a pub), a planned brunch program, and happy hour deals to be had, as well as that friendly Unicorn atmosphere that's marked the brand for well over four decades. The Unicorn on 4 is located at 1919 4th St. S.W. and is open daily from 11 a.m. to close. For more information, visit superpub.ca.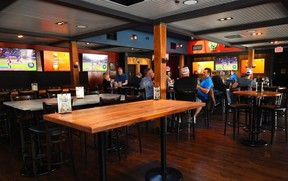 ****
For something completely different, for the second year in a row, the Stephen Avenue Modern Steak location is hosting a special month-long pop-up in its upstairs dining room. For the entire month, guests can indulge in a concept dubbed Modern Wagyu, with menus featuring either five or eight courses all employing wagyu cuts sourced from several cattle ranching regions around the world. Don't expect a parade of NY strips – chefs Anthony Pittoello and Michael Scarcelli will be working with wagyu beef in creative ways.
"It's a way to showcase wagyu in a way beyond giving guests a steak," "Part of this is about showing people more versatile preparations and going beyond the traditional steakhouse idea of wagyu."
Modern Wagyu runs Thursday, Friday, and Saturday evenings from Oct. 6 to 28 on the upper level of Modern Steak's Stephen Avenue location (100 8th Ave. S.E.). The fixed menus are priced at $149 and $249 with the option of wine pairings and premium add-ons. To reserve a table or for more information, visit modernwagyu.com
Article content
Finally, just next door to Modern Steak you'll find the Hyatt's Thomson restaurant, which will be hosting its popular Thanksgiving brunch buffet on Sunday, Oct. 8. The brunch will feature breakfast classics, charcuterie and cheese, seafood, sushi, fancy desserts, and a carving station that will include whole roasted turkey with stuffing and gravy. Brunch runs from 10 a.m. to 2 p.m. and is priced at $74 per adult and $37 for kids aged six to 12 (kids five and under are free). For more information visit thomsonskitchenbar.ca.
Elizabeth Chorney-Booth can be reached at [email protected]. Follow her on Instagram at @elizabooth.