Reviews and recommendations are unbiased and products are independently selected. Postmedia may earn an affiliate commission from purchases made through links on this page.
Article content
Many a joke was made in the early days of the pandemic about the overuse of the word "pivot," but in the restaurant world, at least, there is still an awful lot of pivoting going on. Continuing changes in consumer habits coupled with unstable food prices have forced many restaurants to shift gears, reassess, and then shift again, hoping that they'll strike gold with programming that satisfies the public's appetite for memorable dining experiences.
Article content
The Teatro Group has done some particularly complex pivoting. The group's flagship restaurant Teatro Ristorante lost almost all of the corporate bookings in its private Opera Room when the pandemic hit, a segment of business that was slow to pick up even as regular guests returned to restaurants. Rather than letting the room sit empty, Teatro launched a series of events called Clos de la Oyster Barre beginning in the spring of 2021. With a focus on raw seafood, white wine pairings, and a hefty dose of whimsical elegance, the concept didn't put too much pressure on the kitchen staff as they served the main restaurant, while still bringing some youthful energy to the vacant Opera Room.
Article content
Meanwhile, over at Vendome, in the summer of 2020, the group's casual Sunnyside eatery was reinvented as a day-and-night restaurant with a new dinner menu to complement its already popular breakfast and lunch offerings. Breaking the public's perception of Vendome being a simple breakfast joint proved to be an uphill battle and, despite a delicious dinner menu, the evening crowd never really gravitated over from Kensington's main drag.
Article content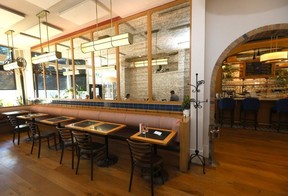 Fast forward to 2023: with corporate events picking up in the Opera Room and dinner flagging at Vendome, the Teatro Group was left with a great dinner concept that no longer had a home and a cool restaurant that was largely unoccupied after dark. So, as of mid-September, Vendome is no longer offering regular dinner service, making room for Clos de la Oyster Barre as a permanent fixture on Thursday, Friday and Saturday nights.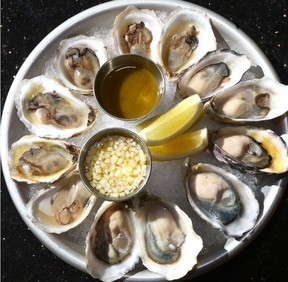 To make the daytime restaurant feel like a hip seafood and wine bar, guests are directed to enter Vendome from the side door on Clos nights, bypassing the coffee machine at the front entrance. The lights are turned down low (even in the kitchen, which has a window looking onto the main dining room), the retro hip-hop soundtrack is lively, and the wine – with an emphasis on bubbles and whites – is carefully chosen by Teatro's renowned team led by Taylor Simpson, director of operations and beverage. The kitchen crew, which is overseen by chef Ryan Baker and includes Teatro favourite Daniel Ramon, operates independently from the daytime Vendome staff. While raw seafood is still at the heart of the program, the chefs are free to deviate from that original concept.
Article content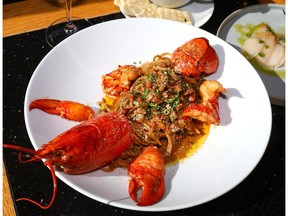 "It's important for us as a restaurant group to do fun and different things and stay relevant," Simpson says. "Aside from a seafood focus, we're pretty broad in what we serve. The focus is on wine compatibility and what food makes sense with the wines we have."
The relatively tight Clos menu includes, naturally, oysters ($3.75 each or $37.50 by the dozen) and a scallop and hamachi crudo ($20) but also things like beef fat fries ($7), grilled octopus with gnocchi ($35), a lobster sausage hot dog ($41) and soft-shell crab sliders ($24). In addition to the regular menu, each night has a temporary chalkboard menu listing a handful of special creations and wine pours. For dessert, things remain relatively savoury with a rotating selection of cheese or foie gras ice cream sandwiches ($24) to end the night (preferably accompanied by a glass of Sauternes).
Clos de la Oyster Barre runs Thursdays through Saturdays at Vendome, located at 940 2nd Ave. N.W. Reservations can be made through OpenTable. Vendome is also open for breakfast and lunch daily from 7 a.m. to 3 p.m.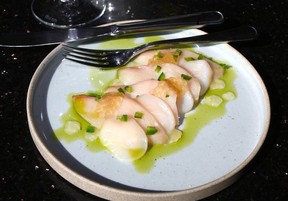 ***
On another end of the dining spectrum, two much-anticipated chain restaurants opened their doors over the last couple of weeks. Crowfoot residents have watched construction on the city's newest Cactus Club location for some time, but it's finally up and running and ready to serve those signature belini cocktails. At almost 10,000 square feet, the bright and vibrant restaurant seats about 300 people in its dining room, lounge and expansive all-season patio.
Article content
Earls also has a new location on the other end of the city at Southcentre Mall, replacing the recently closed Willow Park restaurant. It's another big and beautiful room with a unique design meant to emulate Calgary's place between the mountains and the prairies. Be sure to check out the new Strawberry Smoke Show, a suitably complex mezcal margarita, as well as the seafood towers – Earls is positioning itself as a destination for seafood, so if you're after oysters, it's another good place to go.
The new Earls location is at #355 100 Anderson Rd S.E. in Southcentre Mall (near the Craft Beer Market). You can find the new Cactus Club at 112 Crowfoot Terrace N.W.
Elizabeth Chorney-Booth can be reached at [email protected]. Follow her on Instagram at @elizabooth.