Reviews and recommendations are unbiased and products are independently selected. Postmedia may earn an affiliate commission from purchases made through links on this page.
Article content
In Calgary, brunch tends to mean eggs, meat, some kind of bread and, if we're being honest, not a whole lot of flavour. There are an increasing number of outliers popping up around town — the excellent Asian/German dishes at Maven, the Filipino influences at Bro'Kin Yolk, and the Middle Eastern flavour at Park by Sidewalk Citizen — but most new brunch places stick to the standard eggs benny or sweet French toast with maple syrup. While the comfort factor that comes with standard brunch dishes can be appealing, sometimes you just want something more interesting in the a.m. hours.
Article content
Why not enjoy some sushi with your morning cup of coffee?
Article content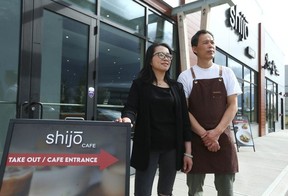 That's the spirit behind Shijo Café, a new breakfast and lunch restaurant up in the northwest community of Royal Oak. If the name "Shijo" sounds familiar, it's because the café's owners Ziqiong Wu and Ding Chen Lu have also owned and operated Shijo Sushi on Kensington Road for the last decade. Business at Shijo Sushi has been going well, but the couple weren't happy with just offering the expected bento boxes during daylight hours. A research trip to Japan gave them some ideas for different kinds of mid-day Japanese meals and they began planning to open a café version of their restaurant while shifting Shijo Sushi to dinner service only.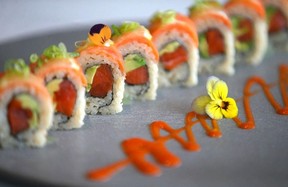 "We noticed most people in Japan do breakfast in a very Western kind of way," Wu says. "They usually only have a traditional breakfast with rice and other dishes on a long weekend or holiday. We wanted to show a different way of putting Japanese sushi ingredients into a breakfast, which is becoming a trend with younger people in Japan."
The couple set up their second shop in a large and modern room located in a new strip mall just north of Country Hills Boulevard. The 80-seat room sets the tone for Shijo's breakfast and sushi mashup with warm wooden walls and cushy terracotta and cream-coloured seating. There's also a grab-and-go pastry counter separate from the main dining area where customers can pick up house-made baked goods, a cup of coffee, or an on-tap kombucha.
Article content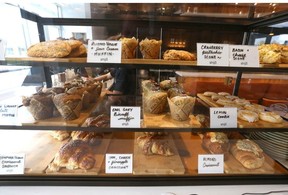 Lu's menu does exactly as promised using familiar Japanese ingredients and flavours in innovative ways. Key highlights include soft-shell crab served with tempura kale, scrambled eggs, and hollandaise over house-made sourdough toast ($27), a play on a savoury Japanese okonomiyaki pancake with mushrooms, shrimp, and cabbage, adjusted to work with the texture of North American vegetables ($21), and eggs Benedict topped with rich miso pork belly in place of bacon ($22). There are already a few Japanese soufflé pancake houses in Calgary and rather than competing with those, Lu keeps his fluffy pancakes fairly simple with fruit and a yogurt cream ($19) and goes savoury by topping the French toast with smoked salmon and tempura yam ($21) and pairing wholewheat waffles with tempura shrimp ($21).
If you need some of Shijo's signature sushi, that's on the menu too along with sushi house appetizers and rice bowls. While Shijo Café does sell alcoholic beverages, Wu emphatically encourages me to pair a sushi roll with a cup of the café's custom-roasted Ethiopian coffee. Stunningly, like all the other combinations at Shijo Café, it actually really works.
Article content
Shijo Café is located at #3120, 2 Royal Vista Link N.W. and can be reached through Instagram at @shijocafe.yyc. The restaurant is open daily from 8 a.m. to 3 p.m.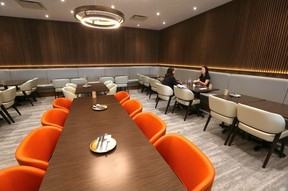 ***
Wine and Food Festival is returning to the BMO Centre this weekend, running on Oct. 13 and 14. Chefs and winemakers from over 25 restaurants and 225 wineries will be on hand to educate food and drink lovers and, of course, hand out some samples of their wares. A ticket to the event will get you through the door, while sampling coupons can be purchased on-site. There will be workshops, special tastings, beer vendors for those who need a break from wine, and much more. For tickets and more information, visit rockymountainwine.com.
Finally, some sad news in our local food media landscape: food writer and former City Palate editor and co-founder Kathy Richardier passed away on Sept. 16 after a long illness. In addition to heading up "The Palate" as she was fond of calling it, Richardier wrote extensively for the Calgary Herald and the Calgary Sun for many years. A local food champion of the highest order, Richardier was a true force of nature with an uproarious laugh and an infectious curiosity, especially when it came to food and the people who make it.
Richardier retired from writing in 2019 after 23 years at City Palate, but her spirit and influence in Calgary's local food and media scene continue to make an impact. Richardier is survived by her husband Douglas Proctor and her daughter Chloe as well as the thriving food community that she did so much to foster. She will be greatly missed.
Elizabeth Chorney-Booth can be reached at [email protected]. Follow her on Instagram at @elizabooth.