Reviews and recommendations are unbiased and products are independently selected. Postmedia may earn an affiliate commission from purchases made through links on this page.
Article content
All rivalries aside, Edmonton has some fantastic restaurants. Just like down here in Calgary, the city is full of hometown heroes that make it worth heading up the QEII for the sole purpose of eating. Edmonton and Calgary restaurateurs are starting to mix and mingle as of late, with some of our beloved brands migrating north and vice versa. All of this cross-pollination may interfere with those road trips but is making for some exciting openings in both cities.
Article content
One familiar Edmonton name to recently land in Calgary is Padmanadi, a family-owned vegan restaurant that's been serving Edmontonians delightful pan-Asian dishes for the past 20 years. The restaurant was founded when Kasim Kasim and his family immigrated to Alberta from Indonesia on a visa that required them to start their own business upon arrival. The Kasim family already had a series of restaurants in Jakarta, so opening in Canada seemed like a natural choice.
Article content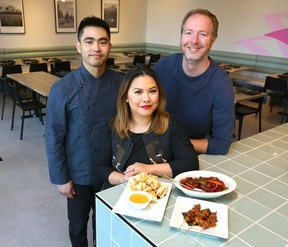 The family quietly opened the original Padmanadi in Edmonton's Chinatown to a relatively slow start but, eventually, a glowing restaurant review turned diners on to the flavourful vegan food that awaited inside. Padmanadi moved its flagship restaurant to a larger space downtown, with a small takeout-focused location opening on the south side in 2019.
The family's two daughters are now well into adulthood and one of them, Maya Richmond, set her sights on expanding to Calgary. In mid-September, Richmond and her husband Adam opened Calgary's first Padmanadi on Macleod Trail near Heritage Drive. It's a clean and modern-looking 67-seat room, decorated in the brand's signature pink and green colours. The idea is to evoke a sense of freshness that matches the restaurant's renowned food.
Article content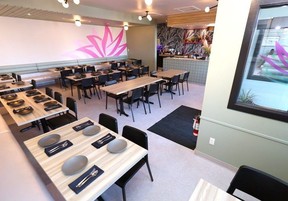 About that food: Padmanadi's menu adheres to Buddhist dining principles, which include avoiding meat and animal by-products as well as pungent vegetables such as onions and garlic. This also makes the food suitable for kosher and halal diets – the cooks can't accidentally slip pork broth or other no-go ingredients into a dish if there isn't any in the kitchen – but the flavours at Padmanadi will appeal to many diners, regardless of dietary restrictions. While Richmond's family is from Indonesia, the menu is a cross-section of Asian dishes that just happen to be meat-free.
"We serve plant-based food. This is the food that we like to eat," she says. "That has become a part of our success. French fries are technically vegan, but I will never serve them, because that's not us. I don't serve couscous instead of rice or noodles because that's just not us."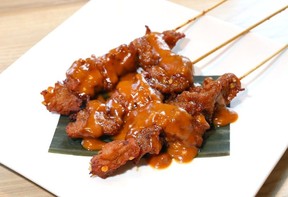 Some of Padmanadi's dishes are naturally vegan because they're vegetable-based, while others like the bestselling ginger beef ($21) and sweet and sour chicken ($19) employ plant-based meat alternatives. The menu is long and varied, with other favourites like string beans in a spicy coconut sauce ($19), deep-fried tofu with oyster mushrooms ($18), and a series of rice and noodle dishes like Nasi Goreng ($18) and lemongrass vermicelli ($18). Everything is made in-house – the garlic and onion restriction means that Padmanadi makes all of its sauces from scratch, which also happens to taste better.
Article content
Calgary's Padmanadi location is at #110 8835 Macleod Trail S.W. and is open Tuesday through Sunday from 11:30 a.m. to 9 p.m. The restaurant can be contacted at 403-300-2270 or through padmanadi.com.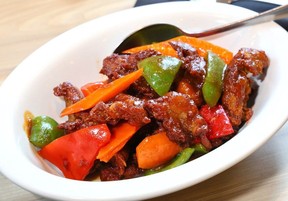 ***
In other restaurant news, Chipotle Mexican Grill, the famed American quick service favourite, will finally be bringing its signature tacos, burritos, and burrito bowls to Calgary this coming week. Alberta's first Chipotle will be located at 2791 32nd Ave N.E., officially opening its doors on Thursday, Oct. 19.
Why does Chipotle have such a cult-like following? People seem to like the fresh quality of the brand's offerings and flavour of the condiments and sauces, with the guacamole being a particular fan favourite. Will it be more popular than other chain competitors like Mucho Burrito and Quesada? Only time will tell.
Also new in Calgary: Calgary Co-Op members now have some added tech to help them in their grocery experiences. The store recently launched a new phone app to help members find exclusive savings, along with games that may result in prizes or discounts, opportunities to earn bonus cash, as well as a shopping list feature to help streamline trips to the store. The new app is available through the Apple App Store and Google Play.
Article content
Finally, Prairie Grid, the dining series that inspired the recently released Prairie cookbook, is returning to Carter Cadillac for its annual collaborative dinner. This year's dinner is guided by the theme "Whimsical by Nature" and will feature dishes and drinks from Kelly Klebaum of Hearth restaurant in Saskatoon, Milpa's Elia Herrera and V Burger's Andrea Harling (both located in Calgary), Emily Butcher of Nola in Winnipeg and Peter Keith from Meuwly's in Edmonton, all working with signature Prairie ingredients. It all takes place on Oct. 21 and tickets are available through Eventbrite. The menu will also host an afternoon Prairie Grid market from 10 a.m. to 5 p.m. with a host of local vendors.
Elizabeth Chorney-Booth can be reached at [email protected]. Follow her on Instagram at @elizabooth.