Reviews and recommendations are unbiased and products are independently selected. Postmedia may earn an affiliate commission from purchases made through links on this page.
Article content
It's easy to miss when you're more fixated on views of the Three Sisters and roaming wildlife than the restaurants on the main drag, but over the past few years, Canmore has quietly been transforming itself into a dining hotspot. The mountain community has always been home to some fine eateries (notably Crazyweed Kitchen and Sage Bistro) but it has also seen some truly spectacular new openings over the last few years with the likes of Sauvage, 4296, and Ankor. There's even a Bridgette Bar outpost in Canmore now, which is why it makes sense for Basecamp Resorts, the hip hotel brand that has been making its mark in the Rockies since it opened its first property in Canmore in 2017, to enter the local culinary scene.
Article content
Basecamp currently has 11 hotel holdings in Alberta and B.C., but its new MTN House by Basecamp is not only branded as its first "luxury" hotel — it's also the first to include a restaurant. Located on the north side of the highway in the old Holiday Inn, MTN House is a large standalone property that will eventually include a splashy Nordic spa. With such an ambitious project, Basecamp owner and CEO Sky McLean knew it was time for her brand to expand into food services through a new restaurant called Rhythm and Howl.
Article content
"There was already a restaurant in the building so it was a no-brainer," McLean says. "Previously, it was a Holiday Inn restaurant and no one who wasn't staying at the hotel really went there, but we knew the space had potential. We also felt that Canmore at large needs some more food and beverage options, so the decision was clear."
While Rhythm and Howl is, by necessity very much a hotel restaurant — you can see the lobby from the bar and dining room and offers requisite breakfast and lunch services as well as dinner — it stays in line with Basecamp's general sophisticated vibe with a hint of mountain lodge coziness coupled with cool mid-century modern-inspired furniture and sleek wooden accents. McLean wanted it to fall in the gap between Canmore's collection of higher-end restaurants and plentiful pubs, in a similar category as Calgary favourites like Model Milk or Ten Foot Henry to appeal to food-minded Canmore locals and hotel guests.
Article content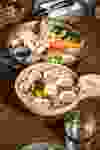 Basecamp hired chef Jason Leizert, best known as the proprietor of the original Salted Brick (which eventually morphed into Salt and Brick) in Kelowna, who brings a terrific command of flavour and a penchant for interesting combinations to the table. Leizert makes the most of "mountain" ingredients, with items like an elk carpaccio appetizer with pickled grapes, brussels sprouts and harissa dressing ($18) and a bison burger in a milk bun with aged cheddar ($24). It's also worth delving into the more surprising creations like the vegan cucumber and carrot lox salad with pumpkin crumble and tamarind dressing ($16), steelhead trout with sunchokes and lemon and pumpkin brown butter ($38) or the duck leg crepe with juniper jus and squash ($46). There's also a full bar with a good wine list and a selection of creative cocktails including a long list of zero-proof options for non-drinkers or drivers planning to head back to the city after dinner.
Rhythm and Howl is located within MTN House by Basecamp at 1 Silvertip Trail in Canmore. The restaurant can be reached at 403-609-4422 or through rhythmandhowl.com.
Article content

***
Back here in Calgary, earlier this year, Shokunin quietly launched a yakitori omakase menu that is currently available by reservation on Wednesday through Sunday nights. Omakase (essentially a Japanese version of a chef's tasting menu, though typically with a few nuances) has been a growing trend here in Calgary since Shokunin's sister restaurant Nupo launched its excellent omakase sushi option in early 2020. This version of omakase involves sitting directly in front of Shokunin's yakitori grill as chefs cook up skewer after delicious skewer in a dramatic cloud of white smoke.

For $95, guests get about two hours of entertainment and course after course of what Shokunin does best. In addition to a couple of appetizers, the meal consists of five yakitori skewers including the restaurant's signature chicken "ass" and oysters. Shokunin only butchers 25 to 30 chickens a day, which means plenty of breast and thigh meat, but an extremely limited amount of those smaller bits, with multiple chickens needed for a single skewer. Booking the omakase guarantees a taste of these skewers — and while you may not think eating a chicken's rear end is the key to personal happiness, in the world of yakitori, it is a delightfully tender treat. The dinner wraps up with a cup of ultra-rich chicken broth and a light dessert.
There are two yakitori omakase seating times each night and customers have the option of adding drink pairings and, if you're looking to really splurge, pieces of 45-day beeswax-aged wagyu at market price. For more information or to book a seat (the $95 experience must be paid for in advance), visit shokuninyyc.ca. Shokunin is located at 2016 4th St. S.W.
Elizabeth Chorney-Booth can be reached at [email protected]. Follow her on Instagram at @elizabooth.