George Chahal called on the province to discontinue its national 'Tell the Feds' ad campaign
Article content
Calgary's lone Liberal MP is accusing Alberta Premier Danielle Smith of making "false" and "baseless" claims via a nationwide attack on the federal government's plans for a clean electricity grid, calling for the province to end a campaign against the regulations and lift a moratorium on renewable energy projects.
Speaking at the federal Harry Hays Building in downtown Calgary on Wednesday morning, Calgary Skyview MP George Chahal called on the province to discontinue its national "Tell the Feds" ad campaign, which he claimed has amounted to "politically motivated misinformation" against Ottawa's draft clean electricity regulations unveiled earlier this year. The proposed regulations set a tentative goal for a net-zero electrical grid nationwide by 2035 — 15 years ahead of the province's target.
Article content
"Eight million dollars of Alberta taxpayers' dollars are funding a campaign of misinformation. That's a problem for me as a Calgarian and as an Albertan," said Chahal, the chair of the House of Commons standing committee on natural resources.
The province's ad campaign, launched at the end of September, has called the proposed regulations "reckless and costly" while stating a premature move toward clean energy will cause blackouts — a claim doubled by the province's grid operator AESO — and make energy unreliable and unaffordable.
"The federal electricity regulations will create a system that is massively unaffordable, dangerously unreliable and utterly unconstitutional," said the premier at the Sept. 28 unveiling of the campaign.
Chahal said the proposed regulations have been misrepresented by the premier and the ad campaign. He said the plan contains "flexibilities" that would allow natural gas power generation to continue past 2035 and accused Smith of deliberately stoking fear for political gain.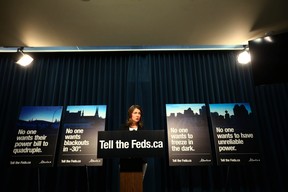 "(Smith) is playing on people's fears by talking about blackouts," he said.
Article content
"It is under this UCP government that electricity rates now in Alberta have risen fivefold. The premier's using the draft clean electricity regulations as a scapegoat," he added.
He also called Smith's assertion that energy company executives could face jail time for non-compliance "ludicrous."
Chahal claimed the province's August move to order a pause on all new renewable electricity generation projects in the province has affected 118 projects worth $33 billion and created a "chill" around future investments in the province.
Related Stories
Guilbeault says no exceptions for net-zero grid; Alberta counterpart calls remarks 'infuriating'

Varcoe: AESO warns of blackouts with feds' plan for a net-zero power grid by 2035

Alberta prepared to use sovereignty act over proposed clean electricity regulations: Smith

Breakenridge: Ottawa started the fight that's brewing over clean energy rules
"For ideological reasons, Premier Smith is standing in the way of billions of dollars of investment in our province," said Chahal. "She needs to get out of the way and lift the moratorium immediately."
Article content
Chahal also called on the province to release a study it commissioned in January on the implications of moving to a clean grid by 2035.
Smith to appear before House committee
The dispute between Ottawa and Alberta has centred around the timing of the proposed regulations. Smith — alongside officials in New Brunswick, Nova Scotia, Manitoba and Saskatchewan — has called the 2035 deadline unrealistic, suggesting the imposition of clean electricity regulations be delayed to 2050.
Smith has vowed the regulations won't be implemented in Alberta, and has said that the government is preparing to use its controversial sovereignty act legislation against the federal mandates.
After requests from Ottawa for Alberta cabinet members to attend a meeting on emissions reduction targets, Smith volunteered to appear next Tuesday before the House of Commons standing committee on environment and sustainable development.
"Ottawa seems intent on moving forward with their destructive and unconstitutional plans to reduce emissions on an unachievable timeline," she said Wednesday on social media.
"Canada and Alberta are united in our pursuit of carbon neutrality by 2050; however, we disagree with Ottawa's 2035 timeline that will increase the price of electricity and reduce reliability to Canadian homes and businesses."
Smith's office did not immediately respond to Postmedia's request for comment regarding Chahal's claims.