Smith has been one busy premier. There are achievements, but also a couple of dark spots that never made it into her statement
Get the latest from Don Braid, Calgary Herald straight to your inbox
Article content
On the first anniversary of her swearing-in as premier, Danielle Smith released a 1,500-word tribute to herself and the UCP. It's very positive, like one of those school essays on My Summer Vacation.
"When I was sworn into office on Oct. 11, 2022, I promised that we would not have our voices silenced or censored by Ottawa, we would address the inflation and affordability crisis driven by the fiscally destructive policies of the federal government, we would get our own fiscal house in order and balance the budget to enable us to afford to be compassionate, and we would address concerns in our public health system," Smith wrote.
Article content
"I am proud to say that over the past 12 months, we have made significant progress for Albertans in every one of those areas."
Later, she added her view of progress on specific issues such as mental health and addictions, tax relief, support for seniors, alternate energy and many other matters.
Smith has been one busy premier. There are achievements, but also a couple of dark spots that never made it into her statement.
A balanced budget is a very good thing. Paying off $13 billion in debt is even better. But as usual in Alberta, this owes far more to high oil prices than government action.
Also because of lush finances, the UCP has been able to shield Albertans from some inflation effects. The pause on collecting 13 cents per litre in provincial tax on gasoline is a major benefit.
A litre of regular cost about $1.30 in Calgary on Wednesday, compared to $1.65 in Vancouver and $1.40 in Toronto.
Smith also trumpets the indexing of personal income tax as well as AISH and other benefits.
This, too, will help many people, but it's actually reindexing. The UCP itself had ended indexing in these areas, thereby reducing benefits because of inflation.
Article content
Related Stories
Calgary Liberal MP calls premier's claims on clean electricity plan 'false' and 'baseless'

Opinion: Devil in the actuarial details — the problems with a $334-billion transfer from CPP to Alberta

Alberta auditor general to examine failed community lab testing privatization program

Alberta prepared to use sovereignty act over proposed clean electricity regulations: Smith

Alberta government earns praise from taxpayers group for low gasoline tax
Smith praises her Sovereignty Act and now may be on the verge of using it, in response to the Trudeau Liberals' 2035 target for net-zero electricity emissions.
But the Sovereignty Act hasn't exactly terrified Ottawa into submission. The feds still refuse to change the electricity deadline for Alberta and Saskatchewan, both heavily dependent on natural gas.
It's possible that the Liberals actually want a major blow-up with Alberta. When did that ever hurt them politically?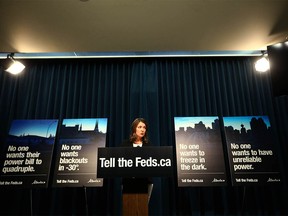 The electricity dispute comes just as Alberta's national standing is weakened by the UCP drive for a provincial pension.
But the pension is never mentioned in all the pages of Smith's backslapping birthday statement. Not a single word about it.
Article content
The province is heavily publicizing the plan at a cost of about $7.5 million.
The key video promises a referendum, but loads the cards heavily for the plan with specific figures on lower contributions, vague hints of special benefits upon retirement, as well as big gains to the treasury.
This is all mythically based on one study's conclusion that Canada owes Alberta $334 billion to kick-start the provincial fund.
Alberta simply cannot secure half the national pension fund. The country would come after us with pitchforks. Any amount transferred would be much lower, and that collapses the rosy predictions in the video.
Also ignored in Smith's one-year roundup is the epic failure of private lab testing that has imposed long waits on Calgarians and others all over southern Alberta.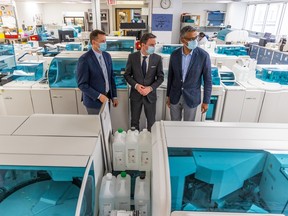 So complete was the disaster that the whole deal with Dynalife was scrapped. Southern testing was handed back to the public agency, Alberta Precision Laboratories.
This has always seemed to be a southern problem, but it matters in Edmonton and the north as well.
Dynalife had handled testing there for decades, and very well, too. But now the company is leaving the province entirely. There could be serious pain as northern testing also shifts to Alberta Precision Labs.
None of this merits a mention from the premier, although it did not escape the notice of auditor general Doug Wylie.
He will conduct a full investigation of procurement and funding deals, which the government won't release to the public.
Smith's little omissions are perhaps understandable. You don't say unkind words in a birthday card, especially to yourself.
Don Braid's column appears regularly in the Herald
X: @DonBraid