Article content
Lukas Ekers feels it's his duty as a young engineer to help make the energy sector more sustainable.
His love for engineering took root at the age of six when he began soldering electric circuits.
Article content
With each science competition, his passion grew stronger, drawing him to opportunities where he moulded his interest in machine learning with reducing carbon emissions for a co-op at a combustion centre.
Article content
He also learned how to design solar racking systems using computer systems for a company in Victoria, B.C., where he pursued a bachelor's in engineering.
Ekers, 22, recounted his recent experience and hopes to land a job in the energy industry at a career fair at the Telus Convention Centre on Wednesday.
"There's so much opportunity for innovation — for example, carbon capture and storage — for reducing the carbon footprint of your typical oil-and-gas facilities."
Ekers is one of the many young graduates facing a shifting energy industry at the cusp of a transition, thanks to several energy targets and a stricter regulatory environment.
Today's engineers, in addition to their traditional responsibilities, have to learn about energy-efficiency regulations including "reducing emissions and sustainable practices with respect to technology development," said Cheryl Knight, an independent consultant who has spent more than two decades studying labour trends, first in Alberta's oil and gas sector and then its energy ecosystem.
Such regulations have also sparked a race between governments and major companies in leading different technologies, including carbon capture, hydrogen and biofuels.
Article content
These investments have resulted in newer opportunities for young professionals, but that also means staying on top of latest trends "to continue having a viable career in energy," Knight said.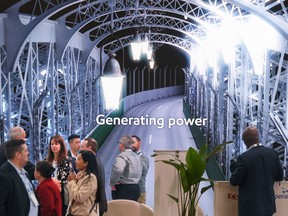 That doesn't necessarily require different degrees but taking shorter courses in addition to foundational education that builds on a graduate's engineering knowledge.
Several reports say the energy industry will look much different than it does now.
But according to John Bolakas, a project director and energy executive at U.S.-based firm Montrose Environmental, and one of the panellists at World Petroleum Congress on the future skills for an evolving workforce, said degrees in hard sciences will always remain attractive for employers.
Newer regulations have forced many companies to undertake community engagement and come up with solutions that benefit both society and the firm.
Related Stories
Less wealthy nations will struggle to reach global 2050 net-zero target, WPC panel says

Global energy security looms over transition as oil prices rise

Decarbonizing aviation sector without government support will cause steep increases to ticket prices: WestJet CEO

Global energy industry buys in to energy transition, but who picks up the tab?
Article content
Along with social scientists and environmental science graduates who would be adept at engaging with community members, it is professionals with expertise in hard sciences that will help solve intricate problems.
"I will hire a chemical engineer any day for anything," Bolakas said. "They've been trained up so well in the sciences and the math — they can solve many ranges of problems."
Greg Holsworth, a talent manager at Interpipeline, a midstream oil company, said the changes in regulation haven't altered the required skills or degrees, but have demanded they use their existing expertise to solve newer problems.
"Critical thinking — that's what I think are the key skills we're going to need as we move forward," Holsworth said.
Scott Langevin, vice-president of corporate operations at Rally Engineering, a firm that manages retrofits and upgrades for refineries and pipelines, said as technology allows firms to analyze large swaths of information, managing data has becoming increasingly important to making crucial decisions.
Engineers with foundational expertise are still relevant, Langevin said. But the tools they use to understand complex problems are evolving.
Article content
"Video modelling of a project, and building that project in a digital space, and actually going through the construction process and planning in a digital space has saved tremendous amount of money on the back end," he added.
---
No Facebook? No problem.
Meta has blocked news articles from appearing in Canada through its social media platforms Facebook and Instagram, so skip the gatekeeper and come straight to the source.